Nothing better than fresh out of the oven Blueberry Surprise Streusel Muffins when blueberries are in season! These muffins are great plain too. I often make them without the streusel topping and give them a light dusting of icing sugar instead.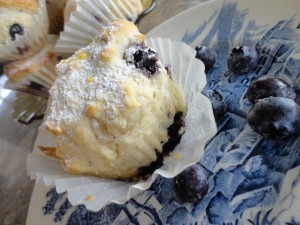 2 cups Flour
3 teaspoons Baking Powder
1/2 teaspoon Salt
1/3 cup Sugar
1 Egg, lightly beaten (or Egg Replacer)
1/2 cup Vegetable Oil
3/4 cup Milk (or Soy Milk)
1 1/2 teaspoons Vanilla
1 cup Fresh Blueberries (or frozen, do not thaw: toss with 1 Tablespoon Flour in a small mixing bowl)
1/4 cup Blueberry Danish Filling or Blueberry Jam
Optional
Streusel Topping
1/4 cup Brown Sugar
1/4 cup Flour
2 Tablespoons Butter, cold
Preheat oven to 375F.
Line 12 muffin cups with paper liners; set aside.
If using, prepare Streusel Topping:
In small mixing bowl combine brown sugar and flour. Rub in butter until mixture resembles coarse crumbs. Set aside.
In large mixing bowl, combine flour, baking powder and salt; make a well in the centre.
In a small mixing bowl beat egg lightly; stir in oil, milk and vanilla.
Pour liquid ingredients all at once into flour mixture and stir just until combined.
Use a 3-ounce scoop to partially fill each muffin cup.
Carefully spoon 1/4 teaspoon blueberry danish filling into each cup.
Fold fresh blueberries into remaining muffin mixture then cover filling with remaining batter; top each muffin with (if using) a 1/2 teaspoon of streusel topping.
Bake in 375F preheated oven for 10 minutes.
Rotate pan and continue baking for another 10 minutes or until pick inserted in centre comes out clean.
Remove from oven and cool on wire rack for 10 minutes before turning out to cool completely.