Mum's Pancakes and Home Made Syrup
In medium mixing bowl combine and whisk together:
2 cups flour
4 slightly generous teaspoons of baking powder
2 Tbsp sugar
1 tsp saltMake a well in the center.
In small mixing bowl whisk together
2 eggs
1 Generous tsp Vanilla
1/3 vegetable oil or melted butter (<- extra flavour with the second option)
1  + 1/2 cups milk … Start with a cup of milk but keep the milk close by
Add the wet ingredients to the dry and whisk together.
You will need to add milk to get the right consistency.
When you get really good at this you can heat your pan while making the batter.
Heat pan to med-high heat. 350 on an electric griddle.
(To test griddle/pan, sprinkle a few drops of water on surface…if bubbles skitter around the pan it is good to go)
Spray heated pan with a bit of veg oil spray.
Using ladle, pour a scant scoop onto hot pan. Cook pancakes until puffed and dry around edges. Flip and continue to cook until lovely and golden.
Now you can spray the pan again but the fat in the pancake will allow you to continue cooking pancakes if you are using a non stick griddle/pan.

Top with warmed Maple Syrup.
Or Strawberries and Whipped Cream.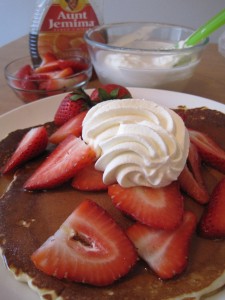 Pancakes with Fresh Strawberries and Whipped Cream

Buy Mapeline flavouring, if you can find it, and make your own syrup! If you can't find it, which I cannot, then use Maple Flavouring.
And leftovers call for Mum's homemade jam!