Thank you, Canadian Living! For years I have used the pie crust recipe from Betty Crocker's Cookbook which calls for shortening instead of lard and let me tell you, it no longer works for me. I used to do alright with that recipe but I think the structure of Crisco Shortening has changed over the years; it is heaps softer now than it used to be…which would explain why it no longer works in my old recipe. I will give Crisco Shortening one last go, putting the shortening in the freezer the night before I want to make pie dough; otherwise, I will stick with this new recipe I found at Canadian Living. This pastry dough is made super simple with the aid of a food processor but works just as well if you use a pastry blender and do all the work by hand.
And it rolls out like a dream; I didn't swear a single time rolling out this dough! I can assure you, prior to finding this recipe, you could hear me cursing like a pirate as I attempted to make something of the mess of flour I turned out of my mixing bowl.
I might also add that I was always intimidated by Anna Charlie's AMAZING pies! I would watch in amazement as she effortlessly made her perfect pie crust with nary a cuss word punctuating her difficult task at hand. She always remained so peaceful as she worked. Maybe the next time I see her rolling up her sleeves to make pie dough I will jump in to help …can never hurt to work along a pro and get some helpful tips!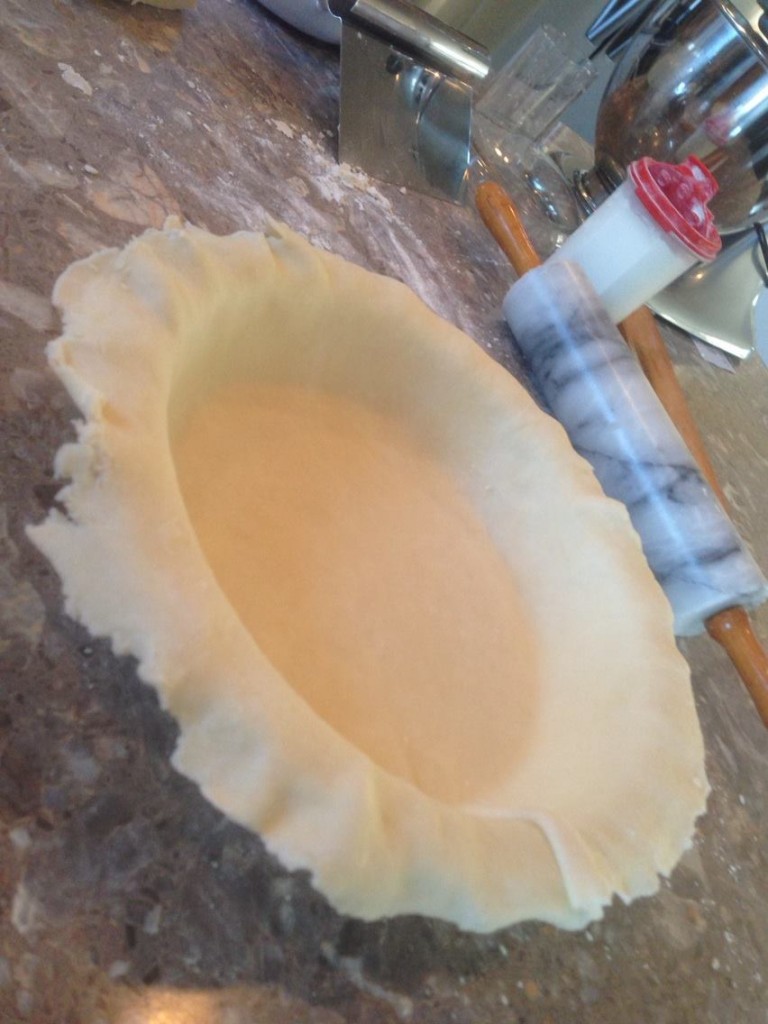 Double Crust 9″ (23cm) Pie
2 1/2 cups Flour
3/4 teaspoons Salt
2/3 cup COLD, unsalted Butter, cubed
1/3 cup COLD Lard, cubed
1/2 cup COLD water, approximately
In bowl of food processor, blend flour and salt.
With processor running, add cubed butter and lard through the feed tube; pulse a few times when all the butter and lard has been added.
Turn processor to ON and pour in water through feed tube; once all the water is added, pulse a few times.
Do NOT process until it forms a ball.
Turn out onto work surface and shape into 2 discs; work quickly but gently – pie dough does not like to be …man-handled…
Roll out dough, with a lightly floured rolling pin, to about 12″; roll gently but firmly, working out from the centre, rotating the disc as you go, easing up on the pressure as you get towards the outer edges so it doesn't get too thin on the outside and too thick in the centre.
As circle grows you won't be able to rotate it anymore; continue rolling from the centre out, imagining a clock face and rolling towards each number on the clock. (Make sense? Sure worked for me to have an image in my head to work with!)
Carefully fold dough into fourths by first folding it in half,  creating a semi circle; then fold that in half.
Carefully and gently lift the dough and place in pie pan, with the point in the centre of the pan; unfold and gently ease to fit snuggly into pie plate.
Run a knife around the edge of the pie plate to trim off excess dough.
Add filling; just before you add the top crust you will brush the edges of the bottom crust with milk to ensure a good seal.
Roll out second disc of dough, place on top of filled pie shell, seal edges and flute.
Need help on how to Flute a Pie? Click on the link for a detailed explanation.
Brush top of pie with an Egg Wash for a Savoury Pie, Milk with a light sprinkle of Sugar for a Sweet Pie.
I cover the edges of pies with a long strip of Aluminum Foil to prevent super browned edges; remove during the last 15-20 minutes of baking.
Bake as directed in your recipe