I don't drink alcohol but I do like to use some in baking now and again. You will regularly find Rum, preferably Bundaberg Rum, but seeing how it is from Australia it is not always readily available here in British Columbia. I will settle for  Havana Club but prefer Captain Morgan's Spiced Rum…afterall, I am baking with it! I also stock Cherry Brandy for making Black Forest Cakes. I WOULD keep Bailey's Irish Creme in the pantry but somehow I think it would disappear! Case in point, when I brought the Bailey's home the first thing on tap was an Irish Coffee for my husband!  This recipe for Baileys Irish Cream Cupcakes came through my Facebook feed from  Easy Baked. I didn't follow her recipe to the T  but was still happy with the results.
I didn't used Berry Sugar or Fine Sugar…just used what I had in the pantry.  I didn't use Cake Flour; used regular All Purpose Flour and used a whisk to combine the flour, baking powder, cinnamon and salt. Shocker, I am out of Vanilla so I used some Dr. Oetker's Original Vanilla Sugar instead. (I am NEVER out of Vanilla but I am in the end stages of making my own Vanilla!)  I omitted dousing the baked cupcakes with Bailey's because I live in a house of peeps who prefer not to drink alcohol; I thought the Bailey's might be a bit overpowering for them. I used my own Buttercream Icing subbing  in Bailey's for milk. Skipped the ganache altogether.
Without further ado, Bailey's Irish Creme Cupcakes.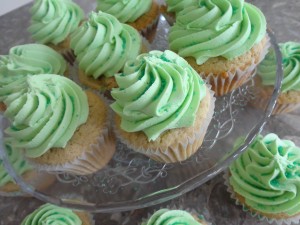 2 1/2 cups Flour
1 Tablespoon Baking Powder
1/2 teaspoon Salt
1 teaspoon Cinnamon
3/4 cups Butter, softened
1 1/2 cups Sugar
3 Eggs, room temperature
1 teaspoon Vanilla Powder
3/4 cup Bailey's Irish Creme
Buttercream Frosting with Bailey's
1/2 cup Butter
1/2 cup Vegetable Shortening
4 cups Icing Sugar
2 – 3 Tablespoons Bailey's Irish Creme,  or to desired consistency
Preheat oven to 350F.
Line Muffin tins with paper liners – I only got 18 cupcakes.
In a medium mixing bowl combine flour, baking powder, cinnamon and salt.
Whisk for a few minutes.
In mixing bowl cream butter and sugar together.
Add eggs, one at a time, mixing well after each addition.
Add vanilla powder and beat for 2 minutes, scraping sides of bowl as needed.
Add flour mixture in 3 additions, alternating with Bailey's, starting and finishing with flour.
Beat for another 2 minutes, scraping sides as needed.
Fill cupcake liners about 2/3 full.
Bake in preheated oven for 18 – 24 minutes, or until cupcake springs bake when touched or until pick comes out clean when inserted in centre of cupcake.
Remove from oven to wire rack to cool in pan for 10 minutes.
Turn out onto wire racks to cool completely before frosting.
Buttercream Icing with Bailey's
In mixing bowl combine butter and shortening; beat until smooth and light in colour.
Add icing sugar, 1 cup at a time, stirring well after each addition.
Stir in 2 Tablespoons of Bailey's, increase mixer speed and beat for 30 seconds.
Add more Bailey's if needed, continue beating; when you achieve the consistency you desire, beat for 3 – 4 minutes until light and fluffy.