We always make a full pot of coffee in the morning and often there is  heaps leftover at the end of the day. Some days I just …gasp…don't feel like drinking coffee. (Today not being one of them…I am craving a cuppa and of course the coffee pot is empty!) In the Summer months this isn't so much a problem; I just bottle what is left over, put it in the fridge and make ice cappuccinos as needed.
There is an ooey-gooey Saucy Mocha Pudding dessert that I like to make with left over coffee but there are just the two of us at home and I'm sorry, we simply could not eat a whole batch. I was so pleased when this recipe from Brown Eyed Baker for Mocha Cupcakes with Espresso Frosting came through my Facebook Feed!
Cupcakes are prefect, in my opinion, because you can make a whole batch, eat a few and put the rest in the freezer.
It just so happens that when I came upon this recipe, Valentine's Day was just around the corner; rather than purchasing some expensive, quickly forgotten  techy gadget I made these for my husband.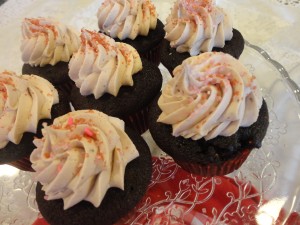 1 1/3 cup Flour
1/3 cup Unsweetened Cocoa
1 teaspoon Baking Powder
1/2 teaspoon Baking Soda
1/4 teaspoon Salt
1/2 cup Milk
1/2 cup Strong Brewed Coffee, at room temperature
1 1/2 teaspoons Instant Coffee Granules
1 teaspoon Vanilla
1/2 cup Butter, softened
1/2 cup Sugar
1/2 cup Golden Yellow Sugar
1 Egg, at room temperature
Coffee Cream Frosting
1 cup Butter, softened
2 1/2 cups Icing Sugar
1 1/2 teaspoons Vanilla
1 1/2 teaspoons Instant Coffee Granules
Preheat oven to 350F.
Line Muffin Tin paper liners (12)
In a small mixing bowl combine flour, cocoa, baking powder, baking soda and salt; set aside.
In mixing bowl beat butter and both sugars on Medium-High speed until light and fluffy, about 2 minutes.
Add the egg and beat until combined.
In a measuring cup combine milk, brewed coffee, instant coffee granules and vanilla.
On Low speed, stir in 1/3 of the dry ingredients, stirring just until combined.
Add half the liquid ingredients and stir on low until smooth, about 30 seconds.
Add another 1/3 of dry ingredients, stirring just until combined.
Add remaining liquid ingredients, stir on low for about 30 seconds.
On Low, stir in remaining dry ingredients until well blended then increase speed to Medium – High and beat for about 2 minutes, scraping down sides of bowl once or twice.
Divide batter evenly between the 12  muffin cups.
Bake for 17 – 20 minutes or until a pick inserted in centre of the cupcake comes out clean.
Remove from oven to wire rack and allow to stand for 10 minutes.
Turn out to cool completely.
While cupcakes are cooling <- sometimes I hurry the process along by putting the cupcakes in the fridge or freezer for about 30 minutes -> prepare the
Coffee Cream Frosting
In a small bowl, combine vanilla and instant coffee granules.
In mixing bowl beat butter until light and fluffy, about 3 minutes.
Stir in 1 cup of the icing sugar until it is well incorporated; stir in vanilla mixture.
Add another cup of icing sugar and stir until incorporated.
Stir in remaining icing sugar, scrape down sides of bowl; once all sugar is incorporated, increase speed to Medium-High and beat for 3 – 4 minutes.
When cupcakes are completely cooled,  load prepared frosting into a large piping bag fitted with a large star tip and pipe swirls onto each cupcake.
Sprinkle with desired decos.
Store in airtight container on Countertop for up to 2 days otherwise store in airtight container in the fridge for up to 4 days, 3 months in the freezer.
Yield: 12 Cupcakes