I cut the lawn today and I am hoping it is the last time this year that I have to do that. I wanted to make sure the lawn was nice, neat and tidy before the onslaught of Fall leaves hits! I have two beautiful young Oak trees in the backyard that promise to give me a few good workouts this Fall!
When I came in from yard work I wanted to make something but meh, I looked at the Mixer waaaaay over on the other side of the kitchen, checked the fridge and the only butter I have on hand is in the freezer…
Then I spied that Tupperware container half full of Rice Krispies…and just this morning I had seen a bag of 'mallows in the pantry….yup, I am going to make up some Rice Krisipie Squares…well, Treats as I didn't make them in the conventional 9×13 baking pan; instead I got out my trusty Classic Tupperware Nesting cookie cutters and chose the largest one. Next I made up the Rice Krispie treats recipe as per directed on the box…wait, I don't have the box, I have Tupperware; no worries, google to the rescue! You see, I was even too lazy to go and look in my beautiful Recipe Box for the printed recipe I have there.
Anyway, back to the treats; when stirring the cereal into the melted 'mallows I added a fair amount (1/4 teaspoon) of Wilton Butter Yellow Food Colouring Paste, then I turned the gooey mess out onto a piece of parchment paper I had lightly sprayed with vegetable oil spray, covered it with another piece of sprayed parchment paper, took the rolling pin to it, cut into shapes, rolled the scraps into little balls which would become pumpkins, done deal!
Well, then I had to decorate them. Using clean kitchen scissors I cut large 'mallows into four bits which became the petals that decorated the Pumpkin Flowers. Then I whipped up a couple of batches of thick glaze, tinted one light yellow, the other green, loaded them into piping bags fitted with a small writing tip and piped stamen onto the white 'mallow flowers, and using green, piped faces onto the pumpkins; changed the green writing tip to a leaf tip and piped leaves onto all.
Then I had to clean up the ooey, gooey, sticky, messy pot and other dishes….should have just dragged out the mixer and made Sugar Cookies!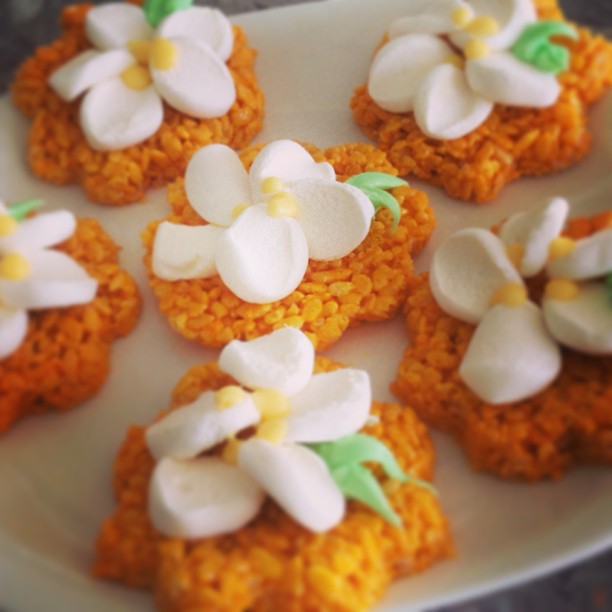 1/4 cup Butter
1 pkg (10 oz, about 40) regular Marshmallows
-or-
4 cups mini Marshmallows
Splash of Vanilla
6 cups Rice Krispies cereal
Pecan Halves
Currants
1 cup Powdered Sugar
Water, to desired consistency
Food Colouring: Yellow, Green
Lightly spray (2) 21″ squares of parchment paper with vegetable oil spray; set aside.
In a large saucepan melt butter over low heat.
Add marshmallows and stir until completely melted.
Remove from heat; stir in vanilla and yellow food colouring.
Add rice krispies and stir until well coated.
Turn out onto prepared parchment paper and gently roll out to 1/2″ – 3/4″ thickness.
Cut with a large cookie cutter, dipped in water.
Roll scraps into various sized balls.
Top each rolled ball with half a pecan, forming the stem.
In a small bowl stir enough water into 1/2 cup of powdered sugar to give a semi stiff icing.
Tint Yellow.
Load into a piping bag fitted with a small writing tip and pipe stamen onto the centre of the flowers.
In a small bowl stir enough water into a 1/2 cup of powdered sugar to give a semi stiff icing.
Tint Green.
Load into a piping bag fitted with a small writing tip and pipe vines and faces onto the pumpkins.
Change tip to a small leaf tip and pipe leaves onto pumpkins and flowers.
Carefully place a currant in the centre of each eye.