So last week I wanted to make Caesar Salad which I have not done in absolutely eons! Why haven't I been making this on a regular basis? Shaking head….dunno but I tell you what; I will make it more often!
Now then, we have had to change up my husband's diet a lil bit so we are going to delete the croutons and add one or two parmesan crisps…he loves those! And ixnay on the bacon. You can't even call it a Caesar Salad, can you? But that dressing! I love it! I found this recipe years ago in my Canadian Living Light & Healthy cookbook; when I went to make the dressing last week I had to search for my cookbook! Zoiks! Better get that recipe on the internet! Yup, there are a gazillion and half Caesar Salad Dressing recipes out there but this is the one I know and love. When I was going to cooking school I had to make Caesar Salad Dressing but you know, that recipe had anchovies in it and I don't eat lil fishies.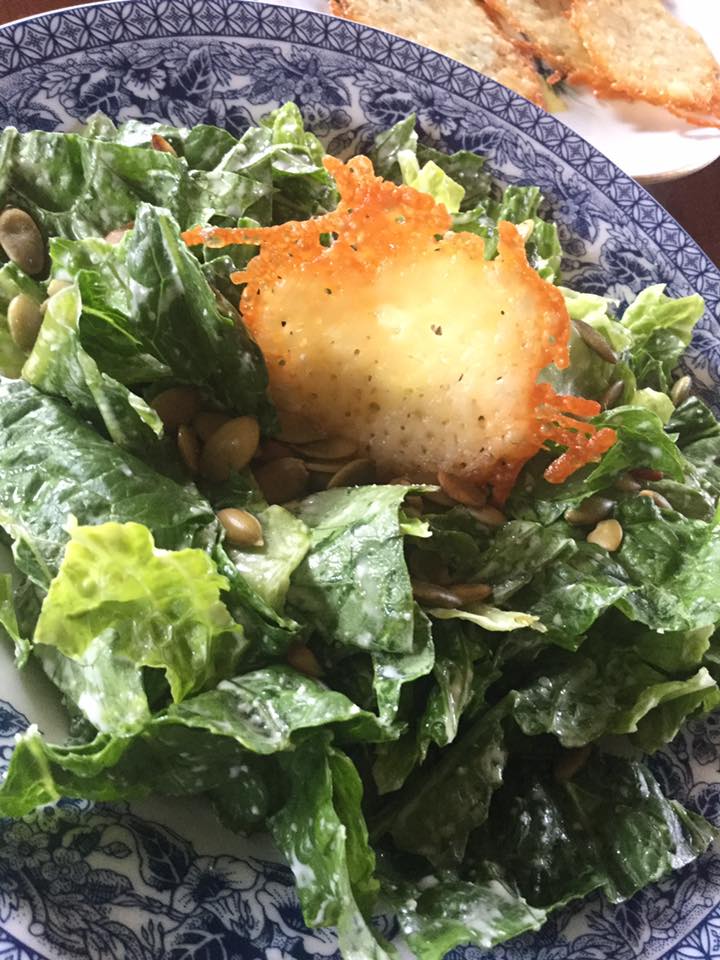 A lovely piquant dressing that clings to the lettuce leaves
2 Tablespoons (25 ml)  White Wine Vinegar
1 Tablespoon (15 ml) Dijon Mustard ( I use grainy)
1 large clove Garlic, minced
1 Tablespoon (15 ml)  Lemon Juice
1/4 cup ( 50 ml) grated Parmesan Cheese
1/4 cup (50 ml) Mayonnaise
1 Tablespoon (15 ml) Water
1 Tablespoon  (15 ml) Olive Oil
Salt and Pepper, to taste
In a deep, small bowl whisk together vinegar, mustard, garlic, lemon juice.
Whisk in parmesan cheese and mayo.
Gradually whisk in water then oil.
Season with S&P
Tear clean DRY romaine lettuce leaves into a large mixing bowl.
Pour dressing over lettuce and toss to coat all lettuce with the dressing.
Garnish with Roasted Pumpkin Seeds, a sprinkle of freshly grated Parmesan Cheese and one or two Parmesan Crisps.
Delish!