I love the taste of Lemon. These cookies are far simpler to make than Lemon Meringue Pie and you still get that zesty Lemon flavour. I found this recipe in my trusty old Company's Coming Cookie Cookbook, page 136. Good thing I know the basics of cookie-making because the page with the directions is long gone.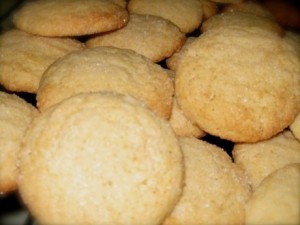 1/2 cup Butter, at room temperature
1/4 cup Sugar
1/2 cup Brown Sugar
1 Egg, lightly beaten
1 Tablespoon grated Lemon Rind
2 Tablespoons Lemon Juice
1 1/2 cups Flour
1 teaspoon Baking Powder
1/2 teaspoon Baking Soda
1/2 teaspoon Salt
Sugar, for rolling cookies in
Preheat oven to 375F.
Line cookie sheets with parchment paper.
In mixing bowl cream together butter, sugar and brown sugar.
Add egg, lemon rind, lemon juice and continue beating for 2 minutes.
Stir in flour, baking powder, baking soda and salt.
Using a small Pampered Chef #2 scoop, scoop out cookie dough, roll between your hands to form a ball; roll in sugar.
Place 2″ apart on cookie sheet.
Bake in preheated oven for 6 – 8 minutes.
Remove from oven, allow to set on cookie sheet for a few minutes before transferring to wire rack to cool completely.
Makes about 3 Dozen Cookies