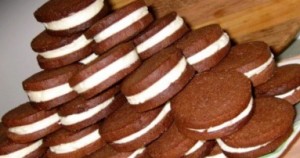 Chocolate Cookie Dough
1 cup Butter
1 cup Sugar
1 large Egg, slightly beaten
1 teaspoon Vanilla
3 Tablespoons Cocoa
2 1/2 cups Flour
1 1/2 teaspoon Baking Powder
1/2 teaspoon Salt
Buttercream Filling
1/2 cup Butter, at room temperature
2 cups Icing Sugar
Splash of Vanilla
Milk, to right consistency, about 1 – 1 1/2 Tablespoons
In mixing bowl, cream butter and sugar together.
Beat in egg, vanilla and cocoa.
Add remaining ingredients and mix well.
Turn out onto a lightly floured surface and shape into rolls, 2 inches in diameter.
Wrap in waxed paper or cling wrap.
Chill overnight, or longer; may also be frozen.
*If you are in a super hurry to make these, wrap and place in freezer for 30 – 40 minutes.
To bake, preheat oven to 375F.
Slice thinly and place on a parchment paper lined cookie sheet.
Bake in preheated oven for 5 – 8 minutes.
Let set on cookie sheet for 2 minutes before transferring to wire rack to cool completely.
While cookies are cooling, prepare
Buttercream Filling:
Cream butter in mixing bowl.
Add icing sugar in 3 additions, stirring well after each addition.
Stir in vanilla and 1 Tablespoon of milk; increase mixer speed and beat well.
Add a lil more milk, 1 teaspoon at a time, beating well after each addition until you get the consistency you are looking for.
To construct each cookie, pipe a dollop of Buttercream filling onto half of the cookies, top side facing down.
Top with a second cookie, top side up and apply a lil pressure to squish cookie down onto the filling but not allowing the filling to ooze over the sides of the cookie.
Makes about 4 Dozen Cookies