I was clicking through Pinterest for a few minutes at around 11am one day, came to a photo of a version of this, got up from my computer, went to my kitchen and did my best to recreate it. I was not disappointed! The flavours! Amazing! The colours Fabulous!
While the tomatoes were roasting I made up some hummus, prepped the avo and crumbled some feta. I didn't have any bread on hand (a loaf in the breadmaker) so I used up some crackers we had left over from Christmas nibblings.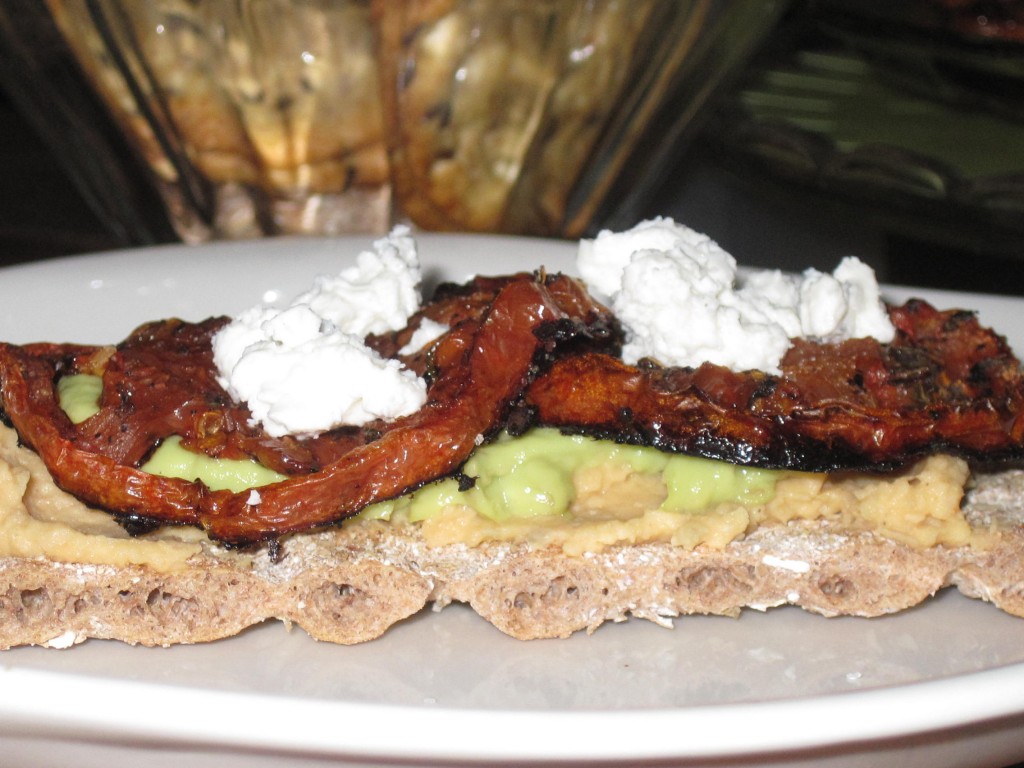 2 Tomatoes
Olive Oil
Balsamic Vinegar
Salt and Pepper
Basil
Preheat oven to 450F.
Slice tomatoes, place on baking tray lightly sprayed with vegetable oil spray, drizzle with a bit of olive oil and balsamic vinegar. Sprinkle with salt, pepper and basil.
Bake in preheated oven for about 25 – 30 minutes until the tomatoes start to caramelize.
While the tomatoes are roasting…
Hummus
1 (425gm) can Chick Peas, rinsed and well drained.
3 cloves Garlic, chopped
1 Tablespoon Lemon Juice
Salt and Pepper to taste
2 Tablespoons Tahini
1 Tablespoon Olive Oil
Paprika
Water, to right conisistency
In food processor combine chick peas, garlic, lemon juice, tahini, olive oil, salt and pepper; pulse a few times.
Scrape down sides, pulse a few more times, adding enough water to desired consistency. (about 3 – 4 Tablespoons)
Scrape hummus into a bowl, sprinkle with a bit of paprika.
Avocado 
2 Avocados
1 Tablespoon Lime Juice
Salt and Pepper, to taste
Spoon avocado into food processor.
Add lime juice, salt and pepper.
Pulse a few times, scrape down sides, continue processing until smooth.
To assemble:
Layer each Rye Toast, Ryevita Cracker or Breton Multigrain Cracker with:
Hummus
Avo mixture
Top with one or two slices of roasted tomato.
Crumbled feta cheese.
Many thanks to the Pinterest poster! You can find the original recipe at:
Eat, Live, Run