These are perfect to use up those Peaches and Nectarines that are beyond eye appeal for eating but still perfectly good!
I often double my Muffin Recipe and make 20 to 21 larger muffins.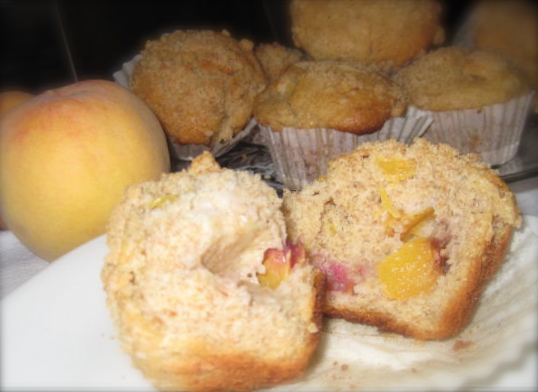 1 cup Whole Wheat Flour
1 cup Flour
1 Tablespoon Baking Powder
1/2 teaspoon Salt
1/3 cup Sugar
3/4 teaspoon Cinnamon
1 large Egg, slightly beaten (Egg Replacer)
3/4 cup Milk (Soy Milk)
1/2 Vegetable Oil (I usually use half oil, half melted butter)
1 teaspoon Vanilla
4 – 5 Peaches or Nectarines, peeled and thickly sliced
Streusel Topping
1 cup Brown Sugar, packed
1/2 cup Flour
1/2 cup Butter, slightly softened
Preheat oven to 400F.
Line muffin tin with paper liners; set aside.
Prepare Streusel Topping:
Combine brown sugar and flour together in small mixing bowl.
Cut butter into cubes and toss into the flour mixture.
Rub together until crumbly.
* I make a large amount of Streusel Topping from time to time and keep it handily stored in a Tupperware Round #3 Modular Mate in the fridge.
In large mixing bowl combine flour, baking powder, sugar, salt and cinnamon.
Add prepared fruit and toss to coat with flour; make a well in the centre and set aside.
In large pyrex measuring cup melt some butter, add enough oil to measure 1/2 cup; add milk (soy milk), vanilla and egg (egg replacer).
Stir with fork to combine.
Add liquid ingredients all at once to dry ingredients and stir just until moistened.
Use a 5ounce Pampered Chef scoop to fill each prepared muffin cup.
Top with a scant teaspoon of Streusel Topping.
Bake in preheated 400F oven for 10 minutes, rotate pan(s) and bake for another 10 minutes or until golden brown and pick in centre comes out clean.
Remove from oven and cool in pan(s) on wire rack for 10 minutes.
Turn out and cool completely.
Store in airtight container for 2 – 3 days.
Yield: 12 Muffins