A Sunday morning favourite. The scones are so basic and so good! I got this recipe from a Province newspaper many years ago. You know I have to switch it up from time to time! Sometimes I add White Chocolate Chunks and fresh Raspberries for a sweet delight! Often I will swap in Fresh or Frozen Blueberries. Sometimes I add cinnamon to the dry ingredients, give the scored dough an egg wash and sprinkle with a bit of Cinnamon and Sugar; you really have to watch these ones don't brown too quickly!
I have even cut back the sugar and made a Savoury Scone with grated Cheddar and Herbs.
This is a great, versatile recipe.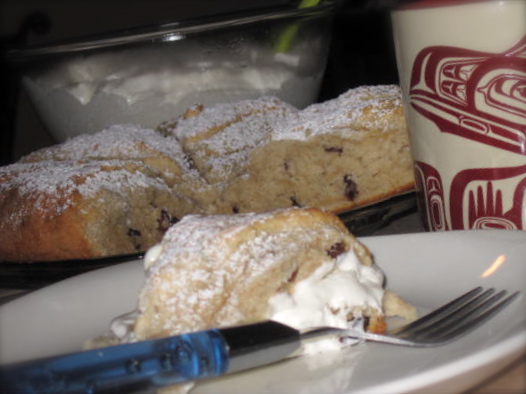 2 cups Flour
1/4 cup Sugar
2 1/2 teaspoons Baking Powder
1/2 teaspoon Baking Soda
3/4 teaspoon Salt
1/4 cup Shortening, cold and cubed
3/4 cup Raisins, soaked and well drained
*1 cup Buttermilk
Preheat oven to 425F.
Sprinkle a little bit of cornmeal on a baking tray or a pizza pan; set aside.
Combine flour, baking powder, baking soda and salt in a large mixing bowl.
Cut in shortening until mixture resembles coarse meal.
Add raisins and buttermilk, stirring with fork until all ingredients are moistened. (Dough will be sticky)
Turn out onto a well floured surface  and gently knead for about a minute.
Shape dough into a ball, cover with a clean tea towel and let sit for about 10 minutes.
Pat down dough to form a circle, 3/4″ (2cm) thick and about 8″ (20cm) in diameter; transfer to prepared baking tray.
Score round into 6 – 8 wedges, gently with a knife.
Bake in hot oven for 20 – 25 minutes or until golden brown and set in centre.
Cover with foil if becoming brown to quickly.
Serve while warm.
Makes 6 – 8
*If you don't have Buttermilk, sour the milk with 1 Tablespoon Lemon Juice or Vinegar – Measure Acidic ingredient into a measuring cup, add milk to 1 cup measure, let stand for 10 minutes. Sometimes I will prep the milk the night before if I plan on making these on a weekend morning.