Reuben sandwiches are a memorable experience and you either love them, or hate them. I must have loved them because I have been a vegetarian for 30 years and the memory of a reuben sandwich still sets my mouth watering!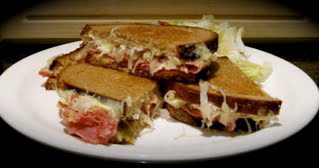 1/3 cup Thousand Island Dressing or Dijon Mustard
12 slices Rye Bread
6 – 1 ounce slices of Swiss Cheese
3/4 lb (350g) thinly sliced cooked Corned Beef
1 – 16ounce (498ml) can Sauerkraut, well drained (drained and squeezed)
1/4 cup Margarine or butter, softened
Set oven to Warm or 200F
Set large 2 large skillets on to heat.
Throw drained sauerkraut into one skillet and heat through; turn heat off, leaving sauerkraut in warm pan.
Throw corned beef into the other skillet and heat through; transfer to heatproof bowl.
Wipe out the skillet.
Spread thousand island dressing or dijon mustard over 6 slices of bread.
Place a slice of swiss cheese on each of the dressed slices of bread.
Top with warmed corned beef and warmed sauerkraut.
Top with remaining bread slices.
Spread the top slice of rye bread with a bit of butter or margarine.
Place sandwiches, buttered side down in skillet, spread butter or margarine over top slices of bread.
Grill over low-medium heat until bottoms are golden brown.
Turn and cook until bottoms are golden brown and cheese is melted.
If cooking a large quantity, transfer cooked sandwiches to a wire rack on baking tray and place in warm oven.