Late last year I came across Cinnamon Roll Pancakes at Recipe girl and immediately fell in love with the idea of morphing cinnamon rolls and pancakes together to create a super special brunch treat! I usually make a triple batch! The leftover ones are just as yummy as the fresh off the griddle ones. I would even go so far as to say they are better because the flavours have had a chance to meld and the brown sugar swirl has hardened as it cooled. Yummers!
Yes, they are a bit of work to prepare but well worth the effort. So brew yourself a cup of coffee, gather your ingredients and do it! Start by preparing the Brown Sugar/Cinnamon mixture, make the Cream Cheese Frosting and finally the Pancake Batter. Now I suppose you could cheat and use store bought Pancake mix, but why would you want to do that when whipping up Pancake Batter is so easy to do?
Alright, get ready to make Cinnamon Roll Pancakes!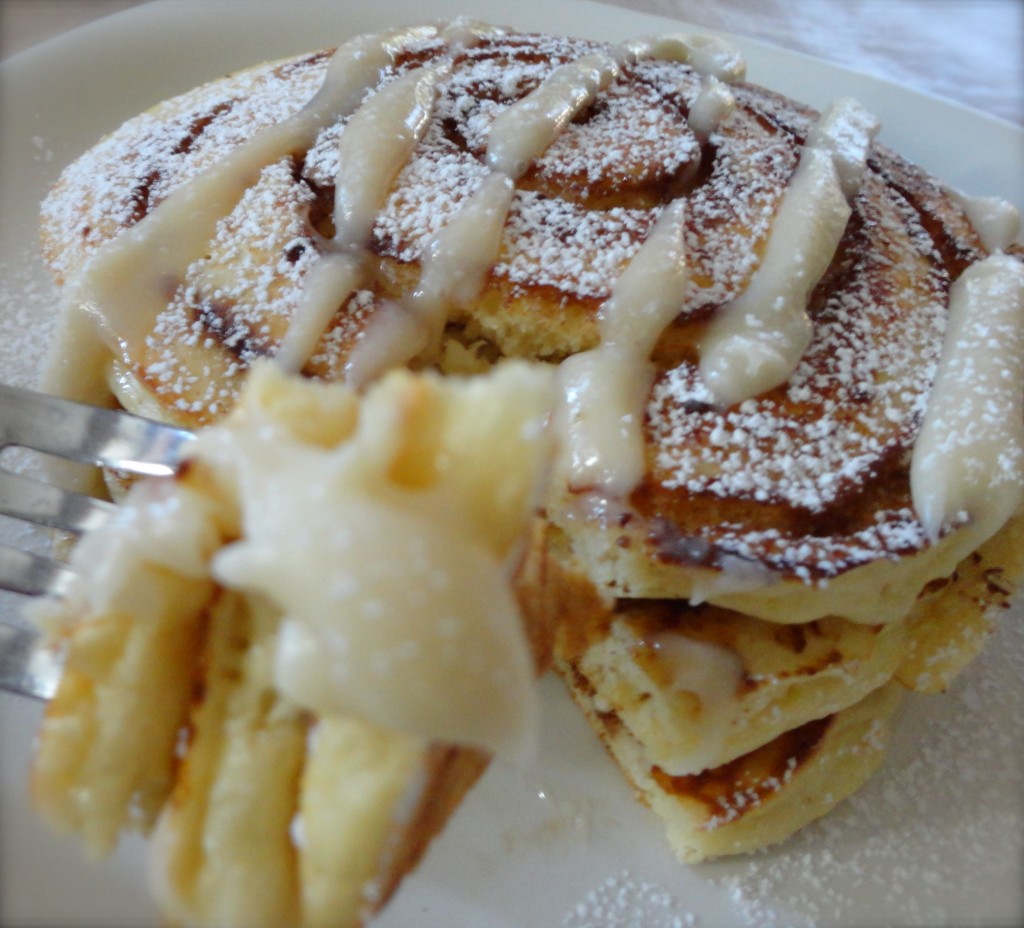 Brown Sugar Cinnamon Mixture:
1/4 cup Butter, melted
1/4 cup Brown Sugar
1 1/2 teaspoons Ground Cinnamon
Cream Cheese Glaze:
1/4 cup Butter, softened
2 ounces Cream Cheese, slightly softened
3/4 – 1 cup Icing Sugar
1/2 teaspoon Vanilla
Pancake Batter:
3 cups Flour
2 Tablespoons Baking Powder
1 teaspoon Salt
3 Tablespoons Sugar
1 1/2 teaspoons Vanilla
2 1/2 – 3 cups Milk
3 large Eggs, lightly beaten
1/2 cup melted Butter
Brown Sugar Cinnamon Mixture:
Melt butter in small mixing bowl; add brown sugar and cinnamon and stir well to combine.
Pour the mixture into a Piping Bag or a small Ziploc Freezer Bag. (I fasten the end of my piping bag with a small clip, prop the bag in a drinking glass, fill the bag then put the whole thing into the fridge to bring the mixture back to a semi solid paste)
Cream Cheese Glaze:
In small mixing bowl cream together the softened butter and cream cheese until no lumps remain.
Add icing sugar and vanilla, stirring well.
Spoon the Cream Cheese frosting into a second Piping Bag or small Ziploc Freezer Bag. (Again, I secure the tip while I load the piping bag and leave it sit in another drinking glass until I am ready to use it)
Pancake Batter:
In medium mixing bowl combine flour, baking powder, salt and sugar; make a well in the centre.
In large pyrex measuring cup, melt butter; add 1 cup of the milk then stir in eggs, one at a time, stirring well after each addition.
Pour the egg mixture into the dry ingredients, add another 1 1/2 cups milk along with the vanilla and whisk together until well combined; add enough milk to right consistency.  A few lumps may remain.
Now we are ready to cook the Pancakes!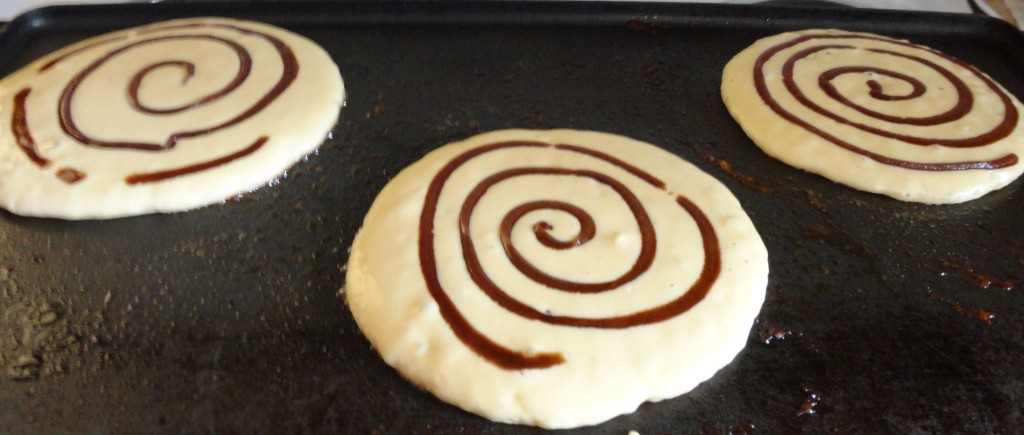 Heat a large non stick griddle to 350F. and lightly spray with vegetable oil spray.
Scoop about 1/3 cup of batter for each pancake onto the hot griddle, lightly spreading each portion evenly.
When pancakes begin to bubble pipe the Brown Sugar/Cinnamon mixture onto each pancake and continue cooking pancakes until the bubbles begin to pop.
Carefully slide a wide spatula underneath the pancake and flip over; cook for another 2 – 3 minutes, until golden.
Flip the pancakes onto a plate.
Serve each pancake with a drizzle of cream cheese frosting.
Recipe girl tells you to wipe out the pan between batches but I don't do that. I did it the first time I tried the recipe and found it just made a mess so I just scoop more batter onto the griddle after I remove a batch. The griddle does get messing, as does the spatula but both clean up very easily. Once finished cooking I pour a enough water to coat the griddle, stick the spatula in HOT water to melt the sugar off. Works like a charm every time! Trust me, if this did not clean up nicely, I would not make them as often as I do.
Please do visit Recipe girl for the original recipe. She has also listed a couple of delicious variations. I definitely want to try the Gingerbread-Cinnamon Roll Pancakes around Christmas time.