I subscribe to a few different recipe sites and this morning a very delicious looking Chicken, Bean, Pepper salad arrived in my inbox. The picture made the salad look so good, I just had to try it! Unfortunately my first swipe at it left me feeling a little flat so I jazzed it up a bit. The end result was pretty satisfying though I think there is still some room for tweaking…
It just so happens that we grilled Chicken Burgers last night and there were a few left over; for lunch today, Luke got a Chicken Burger with Avo Dressing and Bean Salad on the side!
This recipe was inspired by Kalyn's Kitchen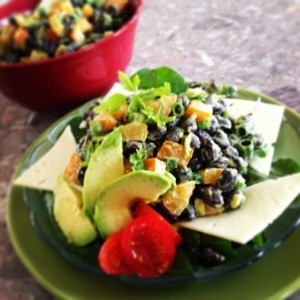 1 – 420 g can Black Beans, rinsed and drained well
1 Pepper,  chopped – Red or Orange
4 Green Onions, sliced, greens only
Fresh Ground Pepper and Salt, to taste
1 1/2 teaspoons Lime Juice
1/2 cup Salsa
3 Tablespoons Buttermilk
Avo Dressing
1 large Avocado
Green Onions, the white bits you have left from the first part of the recipe
1 Tablespoon Lemon Juice
1/2 teaspoon Ground Cumin
Fresh Ground Pepper and Salt, to taste
Optional:
Shredded Monterey Jack Cheese
Shredded Cheddar Cheese
Fresh Cilantro
Grape Tomatoes
In large bowl combine black beans, chopped pepper, chopped green onion, lime juice, salsa and buttermilk.
Add salt and pepper to taste and stir well.
In separate small bowl. mash large avocado.
Stir in white portion of green onions, lemon juice, cumin, salt and pepper.
Pour dressing over prepared Black Bean and Pepper Salad and stir well.
Serve on a bed of Fresh Spinach leaves or Garden Greens.
Top with a bit of shredded Monterey Jack or Cheddar Cheese.
Garnish with Fresh Cilantro and Grape Tomatoes.
Serves 4 – 6
I reserved a lil of the Avo Dressing and spread about 1 teaspoon on the bottom portion of a hamburger bun, topped it with a grilled chicken burger, dolloped on another Tablespoon of Avo Dressing, finished off with fresh spinach leaves and a few tomato slices.