When I was straightening out the cupboards the other day I came across a box of Graham Wafer Crumbs which was purchased to make Cheesecake Stuffed Strawberries back in July; what to do with the remaining crumbs?
Yes, I have been wanting to make a Cheesecake but was not in the mood to get into something that time consuming. I saw the recipe for Rocky Road Bars on the box and thought, "Meh, why not?" even though I don't eat 'mallows. (tried to find a link to the original recipe but it is not listed on the HoneyMaid site)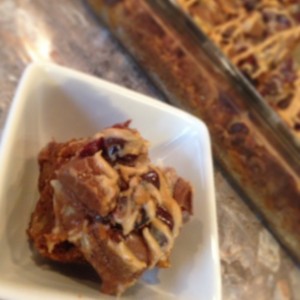 1 1/2 cups Graham Wafer Crumbs
1/2 cup Butter, melted
1 1/2 cups shredded Coconut
1 1/2 cups chopped Nuts (Walnuts, Pecans, Peanuts)
300 g Chocolate Chips
1 1/2 cups Mini 'Mallows, if using
1 cup Dried Cranberries
1 can (300ml) Sweetened Condensed MIlk
Topping
1/2 cup Milk Chocolate Chips,  melted
1/4 cup smooth Peanut Butter, melted and with 1 Tablespoon Icing Sugar stirred in
Preheat oven to 350F
Pour crumbs into 9X13 baking pan.
Pour melted butter over crumbs, mix well then press evenly and firmly into pan.
Layer coconut, nuts, chocolate chips and 'mallows (if using), dried cranberries evenly over base.
Drizzle condensed milk evenly over top.
Bake for 25-30 minutes or until golden brown.
Remove from oven, drizzle with melted chocolate.
Drizzle or pipe melted peanut butter.
Allow to cool for a few minutes, cut into bars and cool completely.