The Grandsons are staying over for a couple of nights during a school week which means making lunches for them. The last time they were here on a school night I made Brownies and was quickly informed that "I don't do Chocolate, Granny!" Ooops…so after dinner tonight, while the oven was still on I popped a pan of Butterscotch Brownies into the oven; the verdict is in, they are a huge hit!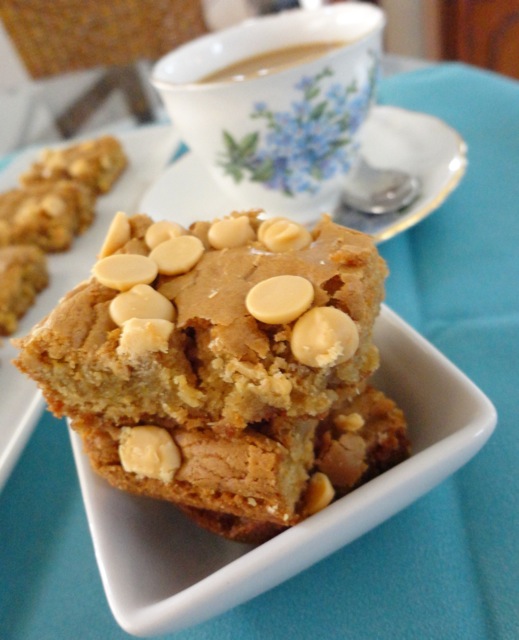 1/2 cup Butter
2 cups Brown Sugar, lightly packed
2 large Eggs
1 1/2 cups Flour
1 teaspoon Baking Powder
1 1/2 teaspoons Vanilla
1/2 teaspoon Salt
1 cup chopped Pecans, optional
Lightly spray a 9X13 (4l) pan with vegetable oil spray.
Preheat oven to 350F.
In medium saucepan, over medium heat, melt butter, stirring often.
Remove from heat.
Add brown sugar and stir until dissolved.
Stir in eggs and vanilla.
Add flour, baking powder and salt all at once and stir until well combined.
Finally add chopped pecans, if using, mixing well.
Pour into prepared pan and bake in 350F oven for 25 minutes.
Remove from oven, cool, in the pan on a wire rack for a few minutes.
Sprinkle with Butterscotch chips, if desired, gently pushing them into the Blondies.
After cooling for a few minutes, cut into desired amount of squares and allow to cool completely.