When Chef Nathan announced the final assignment I began to grin immediately! The assignment was to create a Brunch Menu that knew no boundaries! Price, Staff, Space were not to be an issue.
Immediately ideas of a global theme came to mind. As I began to look into the possibilities I realized that it would be so much more meaningful if I went with a Canadian themed menu. So began the labour of love.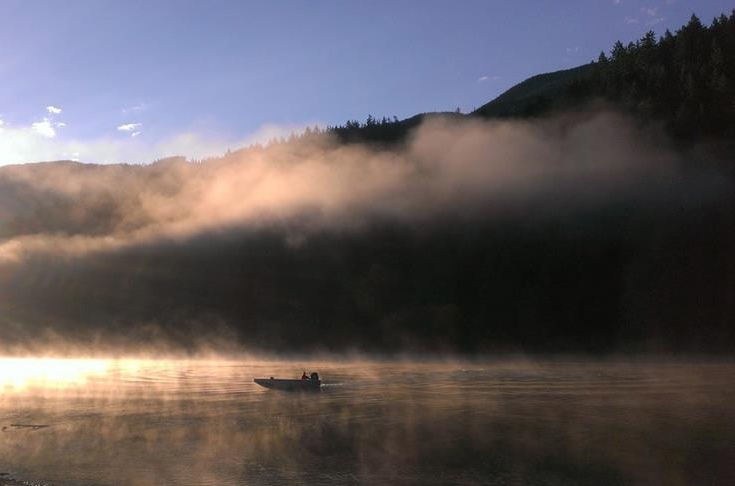 I traveled to each province, "spoke" to the people of today and yesteryear; I understood the hardships described to me by the people who carved  the Canada  that we know, out of the vast, nearly uninhabited continent that they came to. I  learned how early settlers depended on the First Nations people to survive; how the settlers fused their foods with what was here on the land to create new comfort foods.
I felt the hot prairie sun, the prairie wind and smelled the prairie grasses; I felt the biting cold of the Far North. I journeyed to the Atlantic provinces and heard how the people there, once made prosperous from the catch on the Grand Banks,  have now found other ways to make a living for themselves. Innovative folks! I learned that the oft forgotten West Coasters crossed over the mighty Rocky Mountains and found paradise! The Wilds of the West   offered fish and seafood, game and  fertile lands to grow crops.
The Northern regions of Canada  are so vast, so unpopulated;  it would be very peaceful up there. I would love to travel to the Yukon to experience the Sourdough Rendezvous! Any fete that has Scrabble as as event is my kind of fete! And imagine scouring amongst the brush on the tundra of Nunavut, scavenging for wild greens and delicate berries.
I truly enjoyed my stay in Quebec! Figuratively, for this assignment and literally, as a child visiting the eastern township of Noyan.  Up until the early 70's my German grandparents lived in Noyan; whenever I visited them, I never wanted to go home! Things haven't changed a bit! If my life were not here in BC, I would love to live in Quebec; finally give that little French girl inside of me an opportunity to grow up. Oh, and it would be completely amazing to have my grandmother's old country kitchen! It is the kitchen that all my kitchens have had to live up to and I can assure you, none of them have come even close!
O-mommy was a bit of a cook herself. I trust that is where my love of cooking came from? She ran a little diner downtown Montreal; I wish I had asked her the name of it! The bean pots that  sit on the self in this photo now sit in my cupboard.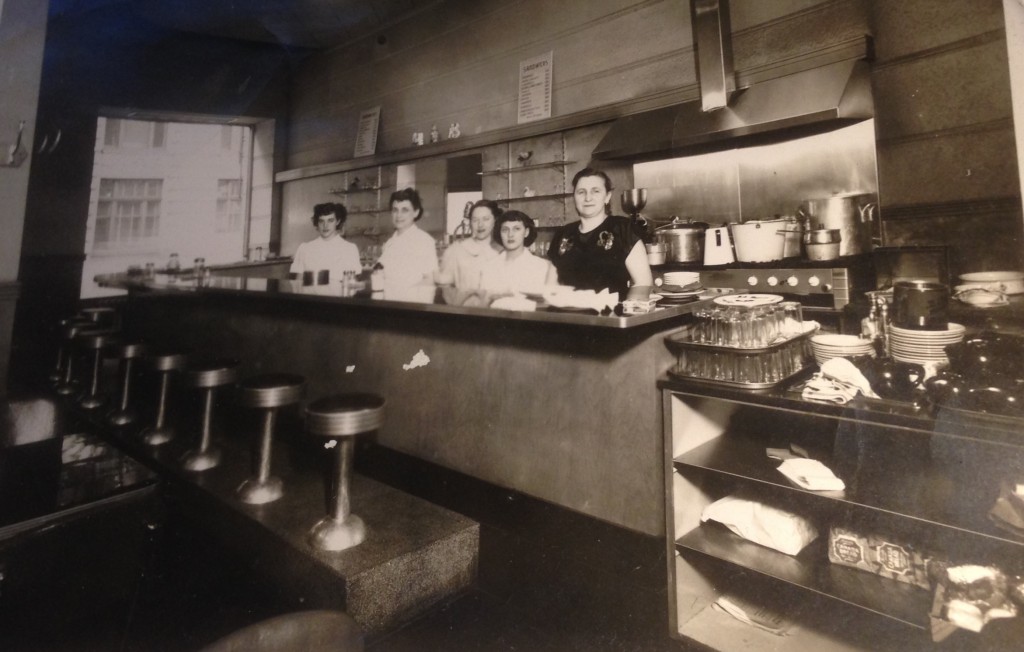 I am thankful to have been given this assignment and thankful for all the people out there who enjoy my food enough to keep coming back to my table. You inspire me!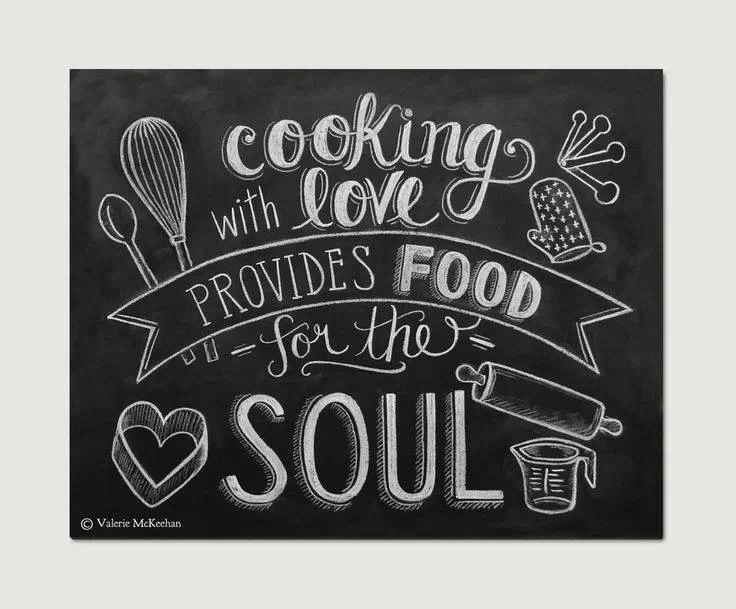 I share now with you, my labour of love.
Wanderlust Cafe Brunch Menu
13 Sunrise Boulevard, Sechelt, BC
Come journey across Canada with our friendly staff; we will stop off in each of our beautiful provinces and territories for a sample of their local fare before returning home to our own beautiful British Columbia.
Have a great trip!
Our Across Canada Brunch is served every Saturday and Sunday from 10:00am until 2:00 pm
$20.00 for Adults, $10.00 for Children under 12 & Seniors
Signature Wanderlust Cafe Bannock
Our Signature Bannock made from Chef's own secret Recipe; so light and fluffy, you can eat it plain, straight out of the oil! Bet you can't eat just one…
Served with Local Farm Fresh Butter & Homemade Wild Berry Jam
Wanderlust Cafe's Signature French Vanilla Coffee
Fresh Ground Coffee Beans and Cold Filtered Water are what make this coffee extraordinary. May your cup never be empty!
CEREALS
Northwest Territories – Hearty Oatmeal with a Fool-ish Twist
The Northwest Territories cold mornings demands a hot, stick to your ribs kind of breakfast. Instead of the topping our Hearty Oatmeal with Brown Sugar or Maple Syrup, we offer this scrumptious Rhubarb Fool to add a hint of sweetness, a dabble of tartness and a whole lot of creaminess!
British Columbia's – Fruit and Nut Granola with Greek Yogurt
Ah! Granola! An eclectic blend of Grains, Fruit, and Nuts that are Honey-Kissed and gently Spiced creating a harmonious blend of Wholesome Goodness!
Served with Organic Greek Yogurt
EGGS
British Columbia's – Smoked Salmon Eggs Benny
Lightly toasted English Sourdough Muffins layered with BC's Wild Smoked Salmon, Perfectly Poached Organic Eggs, then finished with a Sinfully Creamy, Decadent Hollandaise Sauce.
British Columbia's – Classic Quiche Lorraine
BC Organic Eggs combined with Lean Smoked Bacon and Smokey Gruyere Cheese are baked to Perfection in our Handmade Flaky Pastry
British Columbia's – Veggie Lover's Omelette
Organic, Free Range Omelette Stuffed with Farm Fresh Organic Red Bell Peppers, Spinach, Mushrooms; all Fused together with Local Clothbound Cheddar Cheese
BREAKFAST MEATS
Alberta's – Grass-fed Beef Tenderloin
It's Alberta so it has to be Beef! Quality Grass-Fed, Free Range, Dry-Aged Tenderloin steaks from cattle that were raised and finished on the same wild Prairie that the buffalo once roamed! A unique opportunity to enjoy a flavour of the old west!
Alberta's – Bison Breakfast Sausage
Alberta's Free Range, All Grass-Fed, Chemical-Free Bison blended with Organic Herbs to create delectable Sausage Patties that pair wonderfully with Free Range Eggs for a Special Breakfast experience!
Yukon's – Bear Bacon
Those folks in the Yukon LOVE their game meat! Transport yourself to the Gold Rush Trail as you bite into our Specialty-Made Bear Bacon!
PANCAKES OR WAFFLES
Manitoba's – Whole Grain Chocolate Waffles
Manitoba's abundant crop of various grains allows us to whip up these simple, tasty waffles.  Add our Seasonal Fresh Fruit, homemade Chocolate Sauce, plus a dollop of our Cinnamon Whipped Cream and you have yourself a decadent Breakfast treat!
Wanderlust Cafe Chef's – Wickedly Fluffy Pancakes
Chef whips up her signature pancakes using Farm Fresh Eggs, Island Farm Milk, and Farm Fresh Butter! Exquisite!
SALADS
Saskatchewan's – Three Bean Salad
Saskatchewan's Organic Farm Fresh Beans are showcased in this Summery salad. It delivers a boost of colour with the use of Green, Yellow and Purple Beans; it is fortified with our Organic Chickpeas and Kidney Beans. Bring a hit of Saskatchewan Summer onto your plate!
Nunavut's – Wild Greens and Berry Salad
The short Summers in Nunavut give just enough time to produce wonderful, delicate greens: Violet and Shepherd's Purse, Mountain Sorrel and Lamb's Quarter are tossed together with exquisite Cloudberries, Blueberries and Gooseberries giving you a glimpse of one of the many wonders of the Far North.
PORK
Quebec's – Tourtière
Québec's juicy meat-pie, chock-a-block with  Organic Potatoes, Ground Pork and Spices all inside a pastry baked to golden brown perfection will transport you back in time to Grandma's kitchen.
POULTRY
New Brunswick's – Chicken Fricot with Doughboys
Traditional Acadian stew bursting with local, organic Chicken, salt Pork, Farm Fresh Potatoes, Carrots, Celery and Onion and topped with Doughboys that made it the ultimate comfort food for many New Brunswickers!
SEAFOOD
Nova Scotia's – Atlantic Fish Chowder with Hard Tack
Partake of an Atlantic Fish Chowder featuring the Catch of Day fillets and Dry Stores Staples that made the Cooks at sea famous for their excellence and ingenuity in their sea galleys!
POTATO OR RICE DISHES
Prince Edward Island's – Hasselback PEI Potatoes with Fiddleheads
PEI Potato Farmers declare that growing potatoes is more than just an industry, it is a way of life! Experience the quality and care of PEI Potatoes in our Hasselback Potatoes with Fiddleheads.
Prince Edward Island's – Simple Hashbrowns
Our Simple Hashbrowns begin with high quality Russet Potatoes which are lightly seasoned then cooked until a crispy exterior is achieved while the interior is perfectly flaky and tastes oh, so buttery! These are the 'taters served in homey little Diners across the Island!
Ontario's – Rice Pilaf
With the abundance of fresh crops in the field, our Rice Pilaf is laced with finely diced organic Celery, Carrots and Onions and simmered in our home made Chicken Stock.
DESSERTS
Manitoba's – Vinarterta
What is Vinarterta? A decadent Icelandic cake brought to Manitoba by Settlers in the mid 1800's. It's a striped cake handmade with seven thin fragrant vanilla sugar cookie layers, thickly filled with cardamom flavoured dried plums.  It's wrapped in cloth and aged for at least 24 hours before slicing into it, giving it a gentle dusting of Powdered Sugar and inviting you to catch a glimpse of the Pioneering spirit of old Manitobans.
Québec's – Tarte au Sucre with D'érable Crème Fouettée
This beloved traditional pie seems to good to be true. Not only is it delicious but it's about as easy as it gets when it comes to making pie!  Topping it off with Maple Whipped Cream simply takes it to the next level! This dessert is sure to transport you back to the heart-warming tastes and smells of the kitchens of old Québec.
Newfoundland's – Figgidy Duff with Molasses Coady
During the Cod Fishing Hay-days of yesteryear foreign sailors always looked forward to this bread pudding-type dessert served up by the local women. Figgidy Duff is a fragrant, rich bread pudding covered in Newfoundland's famous Molasses Coady Sauce
~Cooking for you brings me great pleasure; please do stop by for a cuppa and a sweet or savoury delight!~