I love Lemon Poppyseed Muffins.  I don't make them nearly often enough! The problem with making them is that I then have to eat them all…I love the citrus taste of these along with the subtle CrUnCh from the poppyseeds. Alright, truth be told? It is the Lemon Glaze that keeps me coming back for more!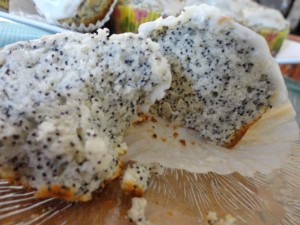 1 cup Milk
1/2 cup Poppyseeds
1/4 cup Butter, softened
1/4 cup Sugar
1 large Egg, lightly beaten
1 teaspoon Vanilla
Juice of half a Lemon (zest it first!)
2 cups Flour
1 Tablespoon Baking Powder
1/2 teaspoon Salt
Zest of half a Lemon
Glaze
2 cups Icing Sugar
Juice from half a Lemon
1 teaspoon Vanilla
Milk, to desired consistency
Combine milk and poppyseeds in a large liquid measuring cup and let stand for 10 minutes.
Preheat oven to 400F.
Line 12 muffin cups with paper liners.
In large mixing bowl combine flour, baking powder, salt and lemon zest; make a well in the centre and set aside.
In mixing bowl cream together butter and sugar; add egg and continue creaming until light and fluffy.
Add vanilla and lemon juice to poppyseed liquid before stirring into the creamed mixture.
Pour wet ingredients into the well in the dry ingredients and stir only to moisten.
Using a #5 Pampered Chef Scoop, fill each muffin cup 3/4 full.
Bake in 400F oven for 20 to 25 minutes, or until pick inserted comes out clean, rotating pan halfway through baking.
Remove from oven and cool on wire rack for 10 minutes before turning out to cool completely.
While muffins are cooling, make the Lemon Glaze.
Lemon Glaze
In medium mixing bowl combine icing sugar, lemon juice and vanilla; stir.
Add enough milk to your desired consistency…go slow here…easier to add a lil milk than to add more icing sugar!
Spread Glaze over cooling Muffins and let cool completely allowing the Glaze to set before storing in an airtight container.
Yield: 12 Muffins