While trying to decide just what to cook for dinner I remembered that I had a bag of shrimp on hand in the freezer. This was super easy and quick to prepare. It was well received by the hungry men in the house.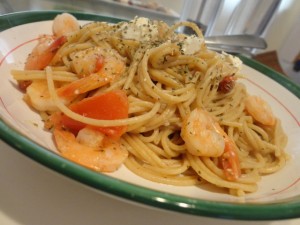 2 Tbsp Olive Oil
5 cloves Garlic, chopped
1 lb Shrimp, peeled and deveined
1 Tbsp Chicken Broth
2 Tomatoes, chopped
1 teaspoon dried Oregano
1/2 teaspoon dried Basil
Dash of Pepper
8 ounces Feta Cheese, crumbled
8 ounces Whole Wheat Spaghetti
->In a large pot, cook spaghetti noodles as directed on package.
While water is coming to a boil, heat olive oil in a large skillet over medium high heat and cook garlic for a few minutes.
Add shrimp and chicken stock: cook for about 6 minutes, or until shrimp is pink; remove from skillet with a slotted spoon into a heat proof bowl and set aside.
->Add pasta to boiling, salted water and cook, stirring frequently for about 8 minutes.
Add chopped tomatoes, oregano, basil and pepper to skillet over high heat and cook until tomatoes are softened and liquid is slightly reduced.
-> Drain pasta and return to pot.
Stir in Shrimp, sauce and crumbled feta.
Serve immediately.
Serves 6