I made these on Girls Day at my school today. It was a busy activity for 25 girls to do in the space of 25 minutes in a teeny tiny room! I think everyone liked them.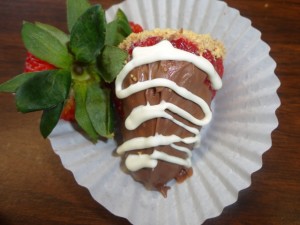 1 kilo Strawberries, washed and dried
225 grams Cream Cheese, softened
45 – 60 ml Icing Sugar
5 ml Vanilla
45 -60 ml Graham Wafer Crumbs
500 grams Melting Chocolate
30 – 45 ml White Melting Chocolate
Wash and thoroughly dry strawberries.
Cut around the top of the strawberry and carefully remove the centre of the berry without damaging the outer walls.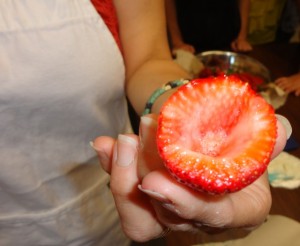 Prepare all the strawberries and set aside.
In a medium mixing bowl combine with a whisk the slightly softened cream cheese, icing sugar and vanilla until smooth and creamy.
Load cream cheese mixture into a 30cm piping bag with  2mm  snipped off the end.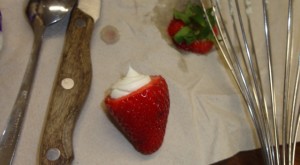 Fill each strawberry with cream cheese mixture, dip into a bowl with graham wafer crumbs to just coat the cream cheese; repeat with all the berries.
In a medium microwave proof mixing bowl melt the milk chocolate melting wafers for about 1 to 2 minutes, in 30 second increments, stirring well after each increment, until smooth.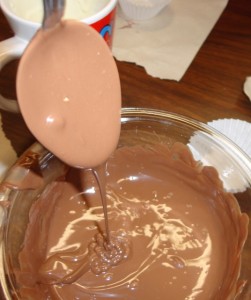 In small microwave proof bowl melt the white chocolate for about 1 minute- 1 1/2 minute, stirring after 30 seconds, until smooth; load into a 30cm piping bag with just the tip cut off.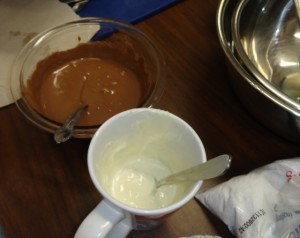 Dip each filled strawberry into the melted chocolate, place on paper lined tray and repeat with remaining berries.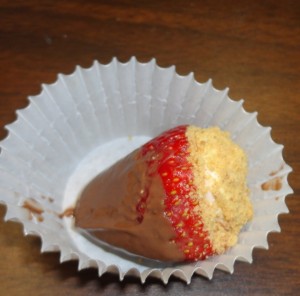 Pipe zig zag design over the chocolate dipped strawberries with the white chocolate filled piping bag.