I came across this delicious recipe over at That Skinny Chick Can Bake.  Please do head over to her site to check out her vast array of recipes!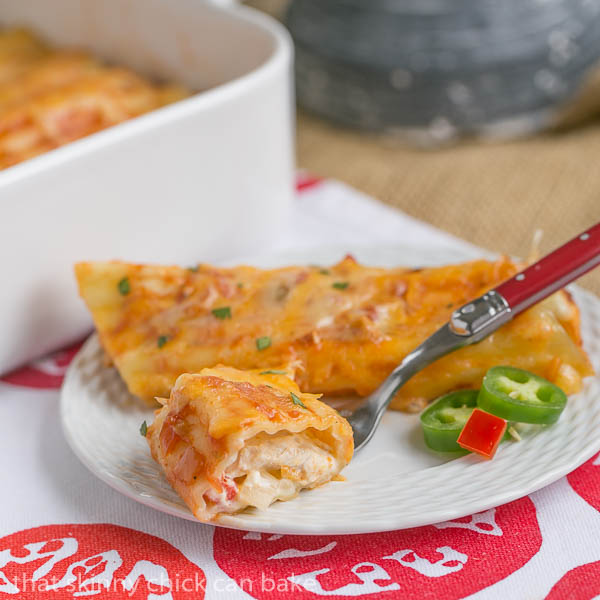 Mexican Chicken Manicotti
Mexican Chicken Manicotti
Prep time: 30 mins Cook time: 1 hour 15 mins Total time: 1 hour 45 mins Serves: 6-8 servings
Ingredients
1 (16-ounce) package manicotti shells
1 onion, chopped
3 cloves garlic, minced
1-2 jalapeño peppers, minced
2 tablespoons butter
2 cups shredded cooked chicken (can use a rotisserie chicken)
1 (8-ounce) package cream cheese, at room temperature
¼ cup sour cream
1-1/3 cups salsa, divided
1 (8-ounce) can enchilada sauce
¾ cup shredded Monterey Jack cheese
¾ cup shredded sharp cheddar cheese
¼ cup shredded Parmesan cheese
See a Quick Sausage Alfredo Recipe
Instructions
Preheat oven to 350 degrees F. Spray a 13″ x 9″ pan with nonstick cooking spray and set aside. Bring a large pot of salted water to a boil.
In large skillet, cook onion, garlic, and jalapeños in butter until softened. Remove from heat and stir in chicken, cream cheese, and sour cream; stir until blended. Let cool 20 minutes, then add ⅓ cup salsa.
Cook the manicotti shells until almost al dente according to package directions; drain. Stuff the shells with the chicken mixture.
In small bowl, combine remaining cup of salsa and enchilada sauce; mix well. Place ½ cup of this mixture into the bottom of prepared pan. Top with stuffed manicotti shells. If there is leftover chicken filling, just put it on top of the stuffed shells. Pour remaining sauce mixture over and sprinkle with both cheeses.
Bake for 35-40 minutes until mixture is bubbly and cheese is browned.