Sometimes I end up with a lot of leftover rice. I do a lot of baking already so I don't always want to make Rice Pudding.  Yes, sure,  Fried Rice is always an option but I don't always have the rest of the ingredients that I would like to use on hand. Then I came across this idea on vegetarian.about.com and knew I had to try it! I didn't follow the given recipe much but it gave me a great starting point and I went from there to create my own version of Rice and Bean Burritos.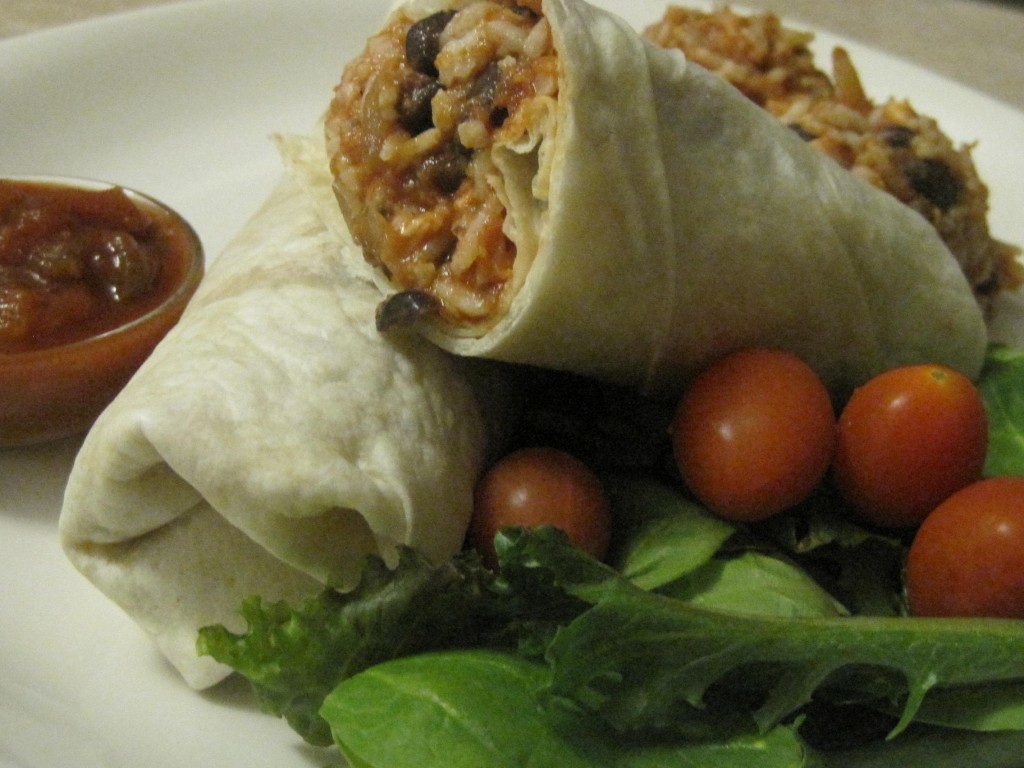 1-425gm can Black Beans, rinsed and drained
1 Tablespoon Olive Oil
1 Onion, chopped
2 teaspoons minced Garlic
1-425gm can Crushed Tomatoes or Tomato Sauce
1/2 cup prepared Salsa
1 teaspoon ground Cumin
1 teaspoon Chili powder
1/2 teaspoon ground Coriander
1 1/2 teaspoon dried Oregano
1 teaspoon dried Basil
1 teaspoon Salt
Pepper, to taste
1 3/4 cup leftover Rice
1 cup shredded Cheddar Cheese
6 – 8 Flour Tortillas
In a large skillet, over med – high heat saute onion until soft; add minced garlic and continue cooking for a few minutes.
Add tomato sauce, salsa and the spices; bring to a boil then reduce heat and simmer for 20 – 30 minutes.
Stir in leftover rice and shredded cheddar, heat through.
Heat 3 tortillas in the microwave, on HIGH, for 45 seconds.
Spoon about a cup of the rice and bean mixture onto a single heated flour tortilla; wrap.
Repeat with remaining tortillas, heating tortillas, 3 at a time, in the microwave before filling and wrapping.
Top each tortilla with some shredded cheddar, a dollop of sour cream and serve on a bed of lettuce.
*I made up 8 burritos, wrapped them in cello wrap then l-foil and put them in the freezer for ready to go lunches in a hurry.
A variation of the recipe I found at:
Rice and Bean Burrito