I think that my Atkins dieting husband is really missing pasta and all the lovely sauces that go with them. I had a poke around google and found a lot of folks were pairing Pork Chops and Alfredo Sauce!  Now I know Pork Chops are a far cry from Pasta but it seems to have hit the spot. I reckon this is a recipe that will be in my rotation from now on. Lucky for me it is so incredibly easy to make too! The salad took the most effort to make!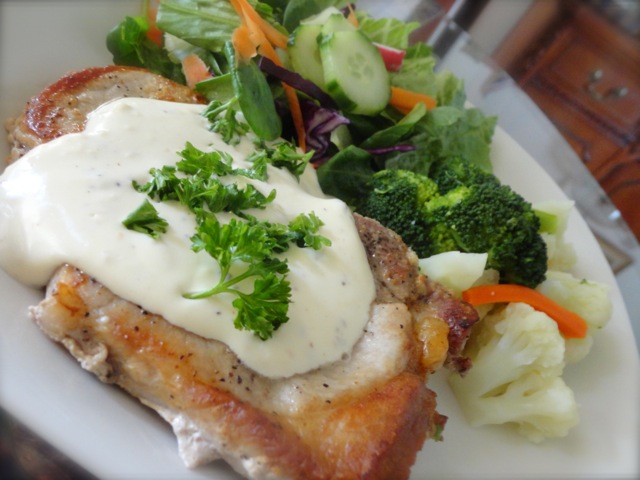 I cooked the seasoned the pork chops with salt and pepper, a bit each of onion and garlic powder; just a hint of each. I was going to cook them in olive oil but the jar of bacon drippings on the counter caught my eye so I used about a tablespoon of that instead.
I cooked the chops in my electric frying pan at 350F  for 6 minutes, seasoned the second side,  flipped them over, put the lid on and continued cooking for another 6 minutes.
While that was cooking I melted about 8 ounces of cream cheese over medium-low heat, stirred in about 3/4 cup of heavy cream, stirring until smooth.
Next I added 2 ounces of grated fresh parmesan cheese and stirred some more, until smooth.
Finally I added a bit of salt, pepper and nutmeg.
Plate the pork chops, spoon alfredo sauce over top and garnish with chopped fresh parsley.
500gm Pork Chops, Boneless
1 Tablespoon Olive Oil
Salt and Pepper, to taste
1/2 teaspoon each Garlic and Onion Powder
8 ounces Cream Cheese
3/4 cup Heavy Cream
2 ounces grated Fresh Parmesan Cheese
Salt and Pepper, to taste
Pinch of Nutmeg
Parsley, garnish