My husband has a Honey fetish along with a life long dream of being a bee keeper. I have been meaning to make some kind of recipe with honey in it for ages and only just got around to it this weekend. Doesn't hurt that I just bought a copious amount of honey at Costco and also had two containers of honey with dregs that needed to be finished.
Now I know the Honey Cake looks pretty with the Honeyed Almonds on top but in hindsight, the topping was a bad idea. Tasty, but a bad idea because the Honeyed Almonds was pretty much Almond Bark minus the chocolate. Again, tasty, but a bad idea for the top of a cake.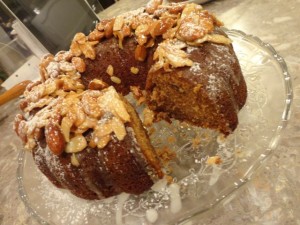 3 1/2 cups Flour
1 1/2 teaspoons Baking Powder
1 teaspoon Baking Soda
1/2 teaspoon Salt
1 Tablespoon ground Cinnamon
1/2 teaspoon each: ground Cloves, ground Allspice, ground Ginger
1 cup Vegetable Oil
1 cup Honey
1 1/2 cups Sugar
1/2 cup Brown Sugar, lightly packed
3 large Eggs, at room temperature
1 1/2 teaspoons Vanilla
1 cup warm Strong Coffee
1/2 cup Orange Juice
1/4 cup Rum
1/2 cup slivered or sliced Almonds
Preheat oven to 350F.
Spray a bundt pan and a 9″round cake pan with vegetable oil spray and dust with flour; gently tap out excess flour.
In mixing bowl whisk together flour, baking powder, baking soda, salt, and spices; make a well in the centre.
In a small mixing bowl combine oil, honey, sugars, eggs, vanilla, coffee, orange juice and rum.
Pour liquid ingredients into the well in dry ingredients, and mix on low speed for 1 minute then increase to medium speed and mix for another 3 minutes.
Pour batter into prepared pans.
Bake in preheated oven for 60 – 75 minutes for the Bundt pan, 30 – 45 minutes for 9″ round cake pan or until pick inserted comes out clean.
Remove from oven to wire rack and allow to cool in pan for 10 minutes.
Run knife around pan to loosen cake, turn out to cool completely on wire rack.
When cake is completely cooled, drizzle with glaze, top with toasted almonds and dust lightly with icing sugar.
Serves: 12 – 16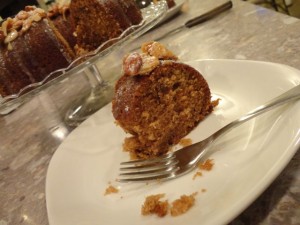 For original recipe head over to Smitten Kitchen.
Honeyed Almonds

1/4 cup Honey
2 Tablespoons Sugar
1 Tablespoon Butter
1/2 teaspoon ground Cinnamon
1 – 1 1/2 cups Almonds
Melt honey, sugar and butter in heavy skillet over medium heat.
Stir in vanilla and almonds; continue cooking for about 5 minutes, stirring constantly, watching for the almonds to start turning golden brown.
Remove from heat and cool completely.
Break into bite size chunks.
What I did
I carefully spread the hot honeyed almonds on top of the cake and allowed it to cool completely before lightly dusting with icing sugar.
Again, it was a bad idea as I basically had Almond Bark on the top of my cake.