Alright so you made that roast beef, loads of mashed potatoes and now you have heaps of leftovers, right? I offer you a wonderful solution:Paula Deen's Shepherd Pie with Leftover Roast Beef found over at Food.com. I made a few changes…as I am known to do, so I have listed how I made it. My husband was thrilled that I even presented him with a lil serving of Ketchup to go with his portion. This Shepherd Pie reminded me of an Aussie Meat Pie which also begs for a good dollop of Ketchup.
This Shepherd Pie is different from all the ones I have seen; it uses mashed potatoes for the "crust" and has a biscuit topping! I don't EVER purchase Bisquick Baking Mix but a few years ago I realized that someone MUST have posted home made versions of the stuff; I was right. I make up a batch of biscuit mix now and again and keep it in the fridge for when I am feeling particularly lazy and don't want to make 'em from scratch.
I poured the goopy Biscuit dough on top of the meat filling as directed in the recipe but my son Ryan said next time I should scoop it on in mounds. I think he might be on to something with that suggestion.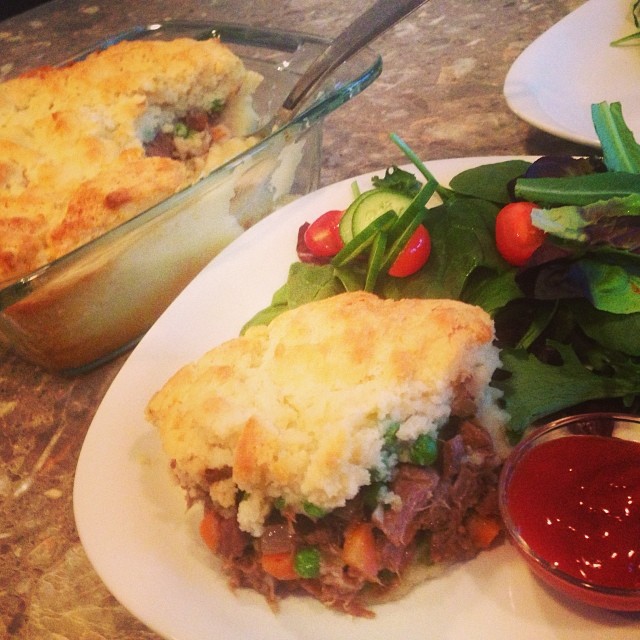 1 Onion, chopped
3 cloves Garlic, minced
2 Tablespoons Olive Oil
1 1/2 pounds Leftover Roast Beef, cubed
3/4 cup Gravy (use leftover Gravy if you have it; if not, stir 1 Tablespoon Gravy Mix into 3/4 cup cold water, whisk until no lumps remain)
1 1/2 teaspoons Worcestershire Sauce
Salt and Pepper
3 cups Mashed Potatoes, leftover
1 cup Frozen Sweet Peas
1/2 cup diced Carrots
1 – 1 1/2 cups Milk
2 cups Biscuit Mix
4 Tablespoons Butter, melted
Preheat oven to 350F.
Lightly spray a 9x9inch square pan with vegetable oil spray.
Beef Layer:
In a large skillet over med-high heat sauté onion in olive oil.
Add minced garlic and continue sautéing for another couple of minutes.
Add beef, stir well.
Add gravy and heat to boiling; cook for 1 – 2 minutes, stirring constantly.
Remove from heat.
Add worcestershire sauce,  salt and pepper; set aside.
"Crust":
Layer mashed potatoes halfway up the sides of prepared baking dish.
Spread beef mixture over mashed potatoes.
Next, add frozen sweet peas and diced carrots.
Biscuit Topping:
Combine biscuit topping mix with enough milk to make a goopy dough.
Scoop biscuit dough and drop in mounds onto vegetable layer.
Brush with melted butter.
Bake in preheated 350F oven for 35 – 45 minutes or until top is golden brown.
Let stand a few minutes before serving.
Serve 4 – 6