After a very long weekend of preparing fruit for the freezer, a toddler underfoot and 2 great big dogs demanding attention I had run out of energy but still needed to get dinner on the table to feed said Toddler. If left to my own devices?  A bowl of cereal would have been sufficient!
Alright, so Kid-Friendly food, requires no effort on my part and yet will satisfy the adults in the house? hmmm, I had seen Tater Tot Casserole on Pinterest, it came through my Facebook feed…might as well give it a go. I googled it and came up with a gazillion recipes! When inundated with responses like that I search out recipes from my Tried and True sites: Kraft (not that I use a lot of their product but I like their site's format), Canadian Living, Taste of Home, Food Network. I went with the Kraft one as it was the top Hit; after reading some of the reviews I made a couple of little changes: added McCormicks Beef Stock cube and a layer of Fresh Spinach (to up the nutritional value!) and a handful of halved Grape Tomatoes for colour. Head on over to Kraft for the original version of Tater-Topped Casserole.
The verdict? Toddler didn't like the taters!  Or the Spinach…to which Grandpa said that perhaps Benny needed to start watching Popeye to learn the value of Spinach! Hah! Grandpa thought it tasted like Hamburger Stroganoff and Ryan said it was a coronary waiting to happen and I wasn't to make it again because it tasted so good he could have eaten the entire casserole on his own! It had ground beef in it so I didn't have any…will have to give it another go using Yves Just Like Ground Round just so I personally can see what all the fuss is about.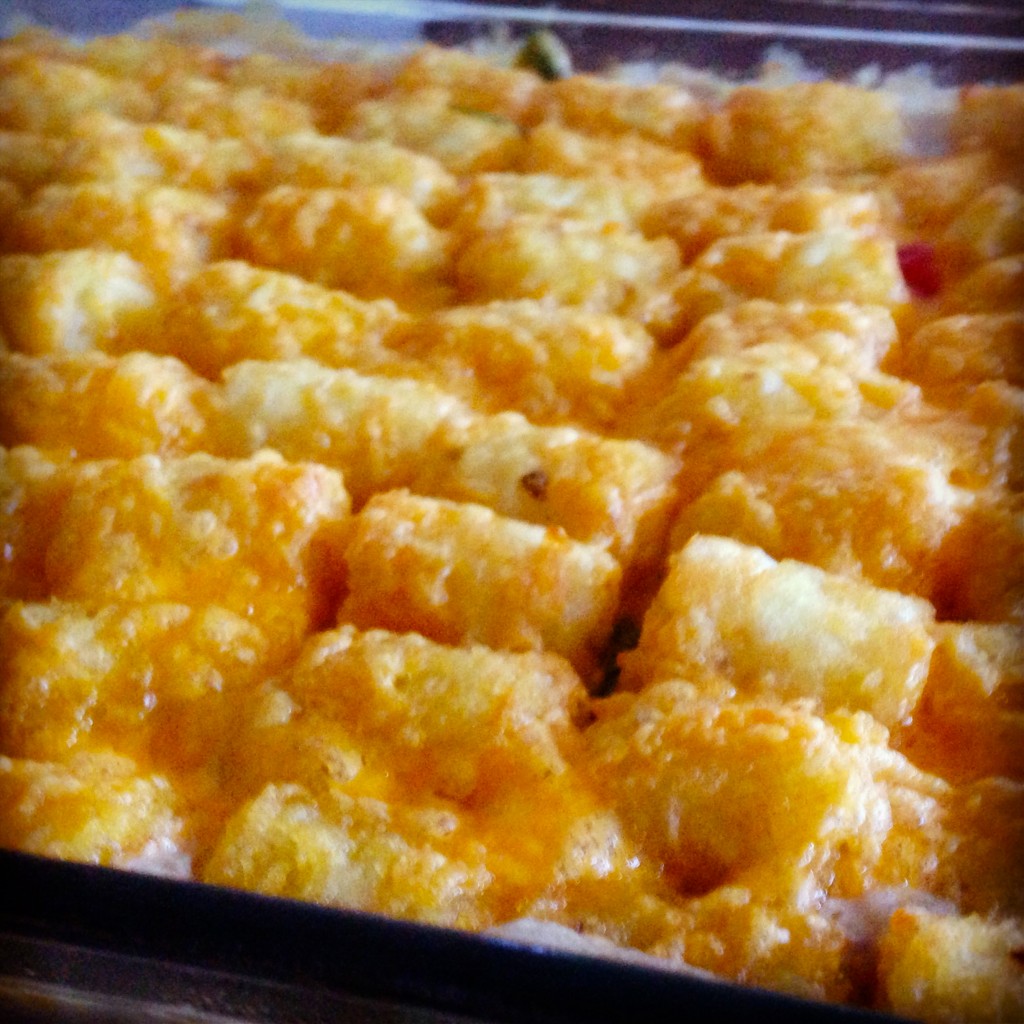 1 lb Ground Beef
2 Tablespoons Olive Oil
1/2 cup Onion, chopped
2 cloves Garlic, minced
6 large Mushrooms, sliced
1 McCormick's Beef Stock cube, crumbled
1 (10 3/4 oz) can Cream of Mushroom Soup
1/2 cup Sour Cream
2 – 4 cups Fresh Spinach – 2 big handfuls of Fresh Spinach
1 cup shredded Cheddar Cheese
1/4 cup Parmesan Cheese
1 lb Frozen Tater Tots, or enough to cover casserole
Preheat oven to 375F.
Lightly spray 9″x13″ Pyrex casserole dish with vegetable oil spray.
In large skillet heat oil over medium-high heat and sautee onions for a few minutes.
Reduce heat to medium, stir in garlic and continue cooking for a few more minutes.
Add ground beef, breaking it up and browning evenly.
Add crumbled beef stock cube, mushroom soup and sour cream; stir and cook until heated through.
Pour into prepared baking dish.
Top beef mixture with a layer of fresh spinach followed by a layer of tater tots.
Bake in preheated oven for 30 minutes.
Remove from oven, top with shredded cheddar cheese and parmesan cheese; return to oven and continue baking for another 15 minutes.
Serves 6 – 8