Ryan went back to his real job this week. A real,  hardworking-man's job in the outdoors, facing all the elements…not belittling the job my husband does….man,  a morning of sitting at my computer uploading recipes really makes me appreciate what HE does! My brains would fall out if I was a computer programmer!
Anyway, Ryan went back to his job in forestry after working the Winter season at Manning Park Ski Resort. After working outdoors all day long, with the temperatures still so cold, I needed a hot meal on the table to greet Ryan when he came home from work; trouble is, now that I am not working, I don't spend quite so much at the grocery store…I am sure Save On Foods stocks have dropped! After foraging in the freezer I found 3 chicken breasts that I could use to make a stew. Luckily I had just been to the produce shop and had heaps of fresh veg on hand!
I think I looked in my Betty Crocker cookbook but didn't find what I was looking for so I googled Chicken + Stew and chose the recipe on offer for Chicken Stew with Dumplings from my friends at Canadian Living.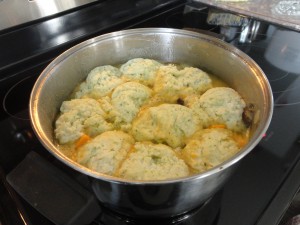 5 cups Water
2 Mc Cormicks Chicken Stock Cubes
3 Boneless, Skinless Chicken Breasts, cut into bite sized pieces
1 bunch Fresh Carrots, scrubbed and cut into chunks
2 Potatoes, peeled and cut into cubes
1 Sweet Potato, peeled and cut into cubes
3 Tablespoons Butter
3 stalks Celery, chopped
1 Onion, diced
2 cups Mushrooms, sliced
1/3 cup Flour
1 teaspoon Thyme
1/2 teaspoon Salt
1/2 teaspoon Pepper
1/2 cup Frozen Peas
1/4 cup Whipping Cream
Dumplings
2 cups Flour
1 Tablespoon dried Parsley
4 teaspoons Baking Powder
1/2 teaspoon Salt
2 Tablespoon (1 ounce)  Butter
3/4 cup Milk
In large pot bring water and chicken stock cubes to a boil.
Add chicken; cover and simmer over medium-low heat for about 20 minutes.
With slotted spoon, transfer to a medium size mixing bowl.
Add carrots, potatoes and sweet potatoes to stock; cover and cook for 10 minutes.
With slotted spoon, remove potatoes and sweet potatoes to bowl holding chicken.
Pour stock into a large measuring cup, adding water to make 5 cups (1.25litres); set aside.
In same pot, melt butter over medium-high heat and cook celery, onion and 'shrooms, stirring often, until softened, about 8 minutes.
Add flour, thyme, salt and pepper; cook stirring for 1 minute.
Gradually whisk in reserved stock; bring to a boil, stirring.
Reduce heat to medium-low; simmer, stirring often, for about 5 minutes or until thick enough to coat back of spoon.
Return chicken, carrots, potatoes and sweet potatoes, and any accumulated juices to pot.
Stir in frozen peas and whipping cream, to combine.
Simmer over medium-low heat.
Dumplings:
In bowl, whisk together flour, baking powder, parsley, salt.
Using a pastry blender cut in butter – or you can just rub butter in with your hands until mixture resembles coarse crumbs.
Using a fork, stir in enough milk to make a sticky dough.
Leaving space around each, drop by Tablespoonfuls (15ml) – I use a #3 Scoop – onto simmering stew.
Cover and cook, without lifting lid, for 15 minutes, or until dumplings are no longer doughy underneath.
Serves 8