I have to make Focaccia for my Professional Cook Level 2 Practical exam…well, I don't HAVE to make Focaccia but it seems Dinner Rolls are frowned upon as …. That's such a Grandma thing to make….well, hello? I AM a Grandma! I also have the choice of making a Baguette but the truth is, mine always tend to have gaping holes in them!  Anyway, I decided to make this Focaccia instead of my tried and true Dinner Rolls.
I have to admit, the second time I made this recipe, I was quite impressed! The first time, I made as recipe suggested and it came out thin and crispy – second time, I let the Focaccia proof for about 45 minutes before I baked it.
The original recipe came from my ancient The Canadian Living Light and Healthy Cookbook, page 38.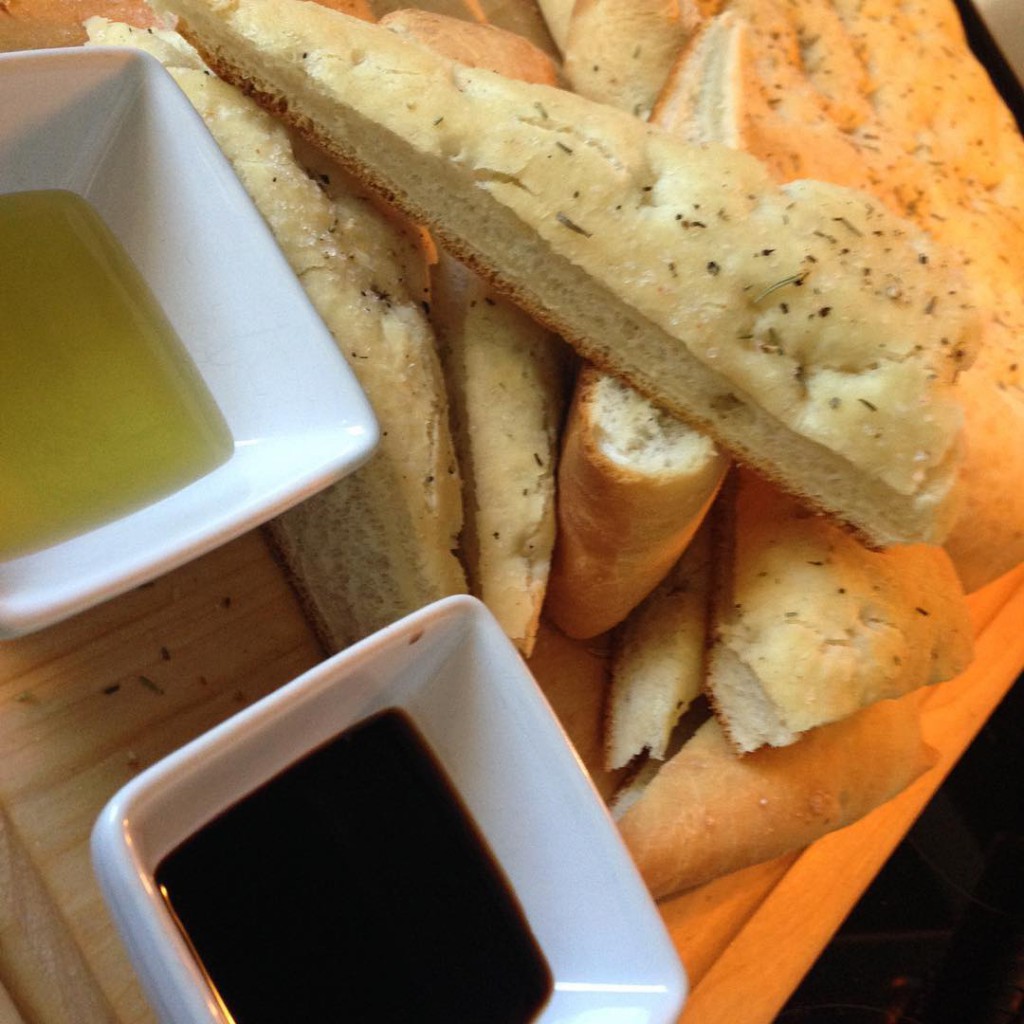 Focaccia
2 Tbsp (1 Tbsp) Sugar
2 cups (1 cup) warm Water
1 Tbsp (1 1/2 tsp) Active Dry Yeast
5 cups (2 1/2 cups) Bread Flour
2 oz (1 oz) Butter, melted
1 1/2 tsp ( 3/4 tsp) Salt
Olive Oil for brushing loaf(ves)
Himalayan Salt
Rosemary
Thyme
*I only need to make 1 for my practical exam so I have listed the ingredients for a single Focaccia in brackets
In large bowl, dissolve sugar in water; sprinkle with yeast and let stand for 10 minutes or until frothy.
Using wooden spoon, stir in 3 cups (1 cup)  of the flour, butter and salt; beat until smooth.
Add enough of the remaining flour to form a soft dough.
Turn out dough onto lightly floured surface; knead for about 10 minutes or until smooth and elastic.
Place dough in greased bowl, turning to grease all over.
Cover with plastic wrap or damp tea towel and let rise in warm place for about 75 minutes or until doubled in bulk.
Punch down dough and divide into 2 portions ( No need to divide dough if only making one Focaccia).Form each portion into a ball.
Place on lightly floured surface and sprinkle with flour.
Cover an d let stand for 20 minutes.
Stretch and pull out each portion of dough into 16 inch (40cm) long oval.
Place on ungreased baking sheet.
Using side of hand, make ridges 1 inch (2.5cm) apart down length of each oval.
Brush each loaf with olive oil, sprinkle with rosemary, thyme and salt.
Cover loosely with tea towel and let proof in draft free for 45 minutes.
Bake in 375F (190C) oven for 25 to 30 minutes or until golden brown.
Remove from baking sheets and let cool on wire rack.
Makes 2 Focaccia  (1 Focaccia)
Each Focaccia serves 4 – 6 depending on use.