I have decided that it is very dangerous for me to follow Chocolate, Chocolate and More on Facebook for the simple reason that they are forever posting such great recipes! I want to try them all! The problem is, I need to a bigger audience to feed said baked products to! My husband can only eat so much of my baking and I just have a taste and am done with it…otherwise I would be the size of a house!!!
I picked up their recipe for Hot Chocolate Muffins; they have been well received by everyone who has tried them! The only changes I have made are: Add White Chocolate Chips to the Cocoa Batter and add Semi Sweet Chocolate Chips to the White Batter. Go ahead, get in the kitchen and make these delicious muffins!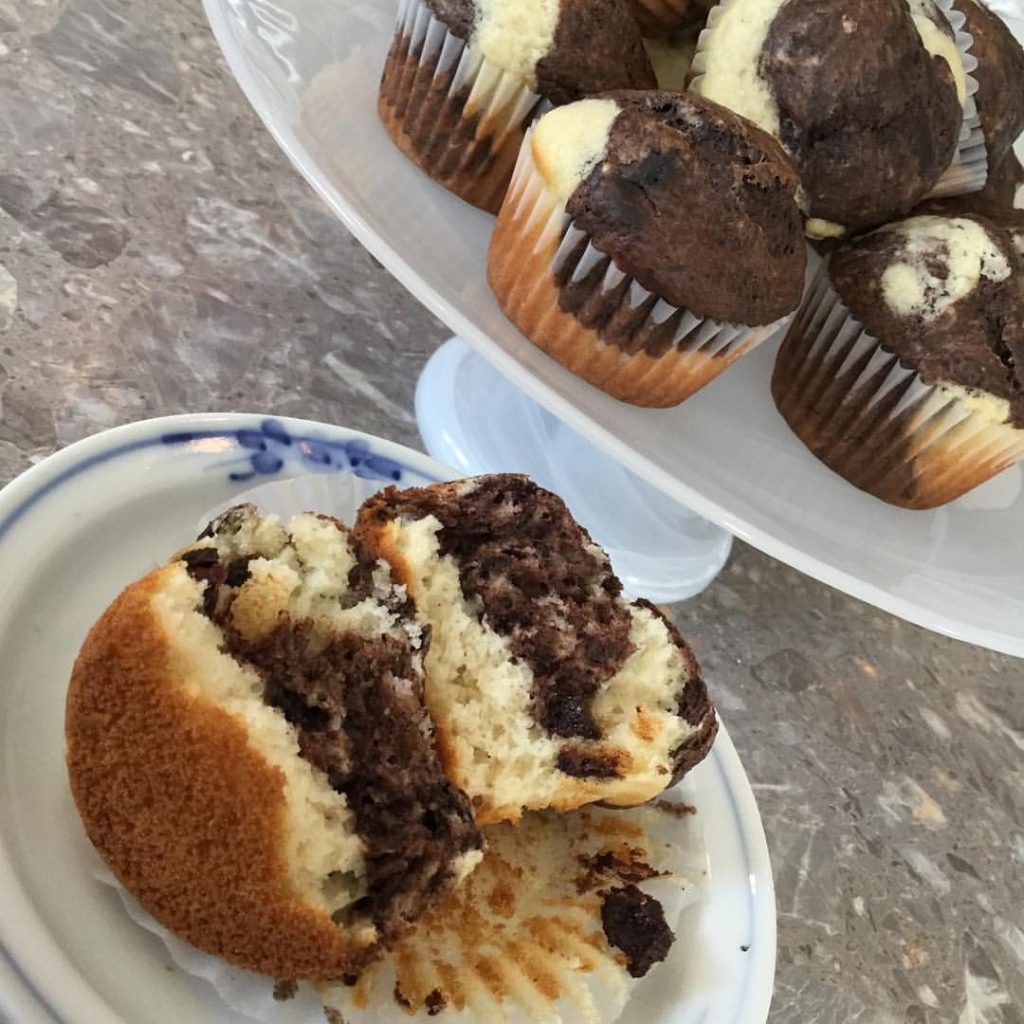 2 cups Flour
1 Tablespoon Baking Powder
Pinch of Salt
1/2 cup Sugar
2 large Eggs, at room temperature
1 cup Milk
6 Tablespoons (3oz) melted Butter, cooled
1 teaspoon Vanilla
2 Tablespoons Cocoa
1/2 cup White Chocolate Chips
1/2 cup Semi Sweet Chocolate Chips
Preheat oven to 400F.
Line a Muffin Tin with paper liners.
In  large  mixing bowl, whisk together flour, baking powder, salt and sugar; set aside.
In medium size mixing bowl whisk eggs, add milk, butter and vanilla and continue whisking.
Create a well in your dry ingredients and add your liquid ingredients, all at once; gently stir to combine, just until all the dry ingredients have been incorporated.
Divide batter in half. Add cocoa and white chocolate chips  into one half of the batter and gently stir in; do not over mix.
Stir the semi sweet chocolate chips into the white batter; do not over mix.
Place a teaspoon of plain batter into lined muffin tin; spoon a teaspoon of chocolate batter; add another teaspoon of white batter; finish up with a teaspoon of the chocolate batter.
Bake in preheated oven for 15 to 20 minutes.
Remove to oven and allow to cool in the tin on a wire cooling rack for 10 minutes.
Turn out and cool completely on wire racks.
Yield: 12 Muffins