I was feeling very tired and perhaps a little lazy when I googled "one pot vegetarian meal" and came up with this: http://vegetarian.about.com/od/maindishentreerecipes/r/quickbeanpasta.htm
A quick mental check of the pantry assured me I had all the ingredients necessary to make this happen. While the water was boiling for the pasta I had a closer look at the recipe and decided it looked rather bland. While the pasta was cooking I threw in a couple of cloves of sliced garlic;
added spices, spinach and parmesan cheese to the mix and voila! A tasty and satisfying vegetarian casserole.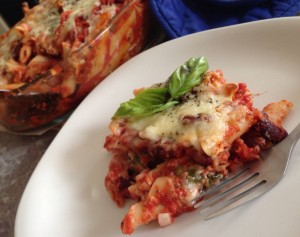 1- 796 ml can Diced Tomatoes
1- 796ml can Crushed Tomatoes
1- 540 ml can Red Kidney Beans
1 cup Skim Mozzarella Cheese
1/4 cup Parmesan Cheese
2 cloves Garlic, sliced
1/2 Onion, chopped
1 1/2 teaspoons Chili Flakes
1 1/2 teaspoons each dried Basil and Oregano
Salt and Pepper, to taste
2 cups fresh Spinach Leaves
1 375 g package pasta
Preheat oven to 375F.
Lightly spray a 4l casserole dish with veg oil spray.
In large pot bring salted water to boil; add pasta and cook for 8 minutes.
Drain pasta, rinse and throw back into the pot.
Stir in diced tomatoes, crushed tomatoes, kidney beans, parmesan cheese, chili flakes, basil, oregano, S&P and chopped onion.
Spoon a third of the pasta mixture into prepared casserole dish, top with a layer of fresh spinach leaves and a third the shredded cheese.
Spoon another third of pasta into casserole, top with remaining spinach and another third of the shredded cheese.
Spoon remaining pasta into casserole, sprinkle with remaining cheese.
Bake in 375F oven for 40 minutes, until cheese is bubbly.
Serves 6 – 8