I love that Canadian Living posts dinner ideas. I often click on their suggestion and think "Ah, yea, that would be good!" But invariably I am missing some ingredient or another but tonight I had everything, and more, to come up with this version of Gardener's Pie. ( http://www.canadianliving.com/food/quick_and_easy/gardeners_pie.php)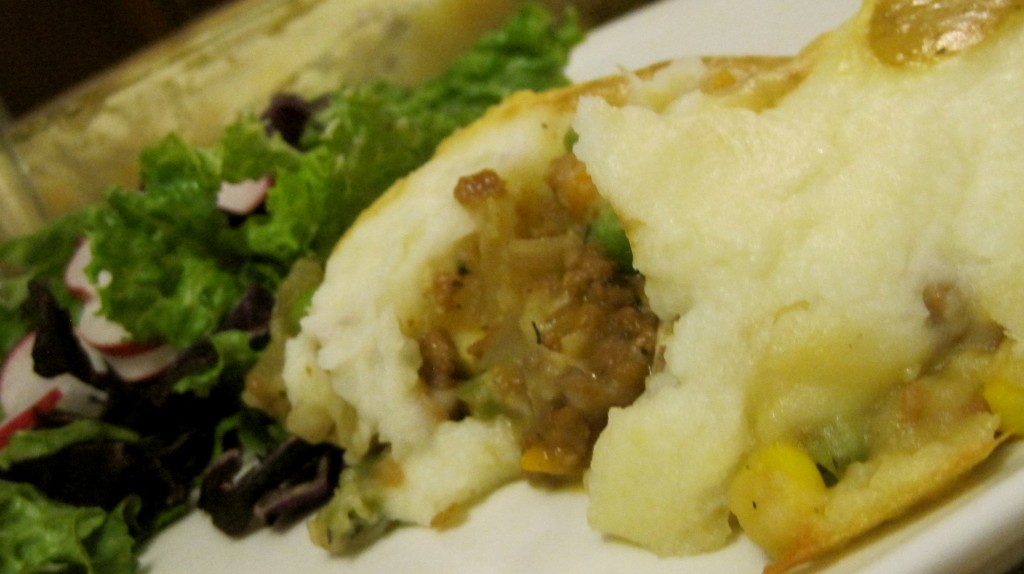 1 Tablespoon Olive Oil
1 Onion, chopped
2 cloves Garlic, minced
1 Carrot, grated
6 medium Mushrooms, sliced
1 1/2 cups frozen Mixed Vegetables
1 Tablespoon dried Basil
1 pkg Yves Ground Round Original
2 Tablespoons Flour
1 cup Water
1 McCormick's Vegetable Stock cube
2 Tablespoon Catalina Dressing (or 2 Tbsp Tomato Paste)
Potato Topping
8 Potatoes, peeled and cut into chunks
1/4 cup Milk
1 1/2 Tablespoons Grated Parmesan Cheese
1/4 cup Light Cream Cheese
2 Tablespoons Butter
Preheat oven to 400F.
Lightly spray a 9X13 casserole dish with vegetable oil spray; set aside.
In medium saucepan cook the potatoes until tender; about 10 – 15 minutes depending on how small or large you cut your potatoes.
Drain potatoes and return to pot.
Mash with milk and butter.
Stir in parmesan cheese and cream cheese.
While the potatoes are cooking, heat olive oil over medium-high heat in a large skillet.
Cook onion for about 3 minutes; add garlic and continue cooking for another minute or so.
Add grated carrot, basil, frozen mixed veggies and mushrooms.
Sprinkle with flour and cook, stirring for 1 minute.
Add water, Catalina Dressing and vegetable stock cube.
Bring to a boil, stirring, for about 2 minutes.
Reduce heat and continue simmering until the potatoes are ready.
Once potatoes are ready to go, pour the "meat" mixture into prepared pan.
Spread mashed potatoes over top.
Dot with scant dollops of butter.
Bake in 400F oven until hot through, about 20 minutes.
Serve with Salad and Crusty Rolls.
Serves 6