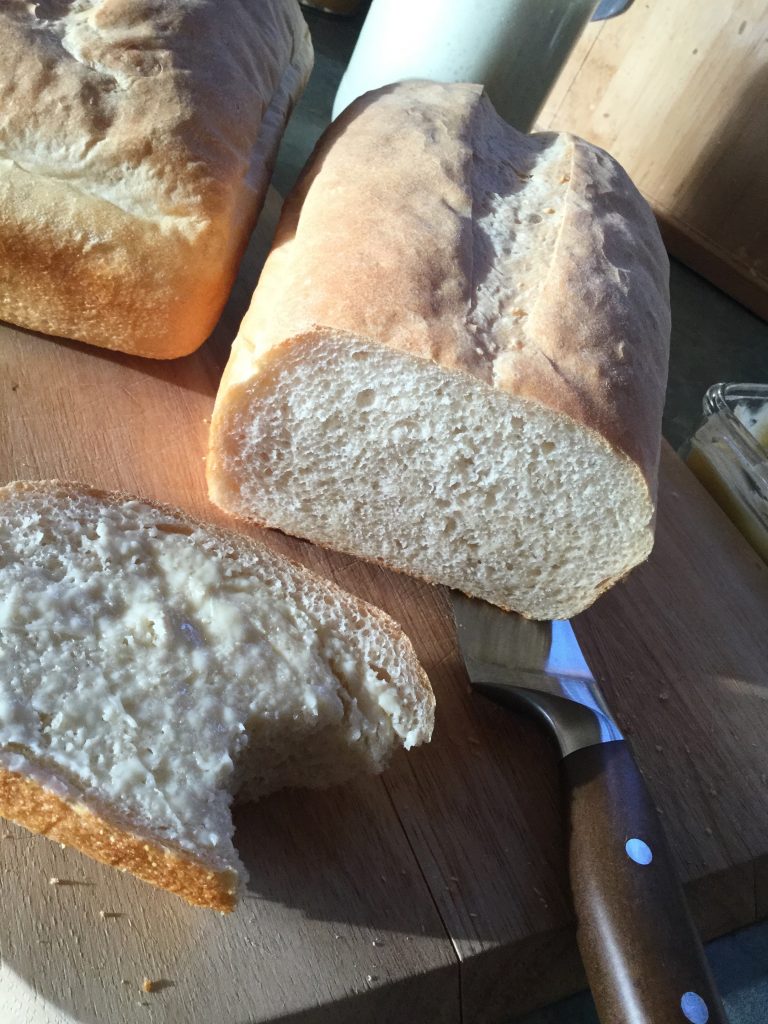 We have been out here, in the middle of no where for … A G E S … Okay,  maybe not as long as it feels but well, let's see, we are coming into our fourth Winter out here. And we can, quite definitively say, Winter is our FAVE season out here! Spring is a mucky mess, Summer is a buggy mess with always the threat of forest fires lurking in the background;  we have also learned that Fall can be mucky and windy and grey and dreary and….well, you get the picture! By the way, even though Winter is our FAVE, it can tend to drag on and on and on and on and on….Luke usually goes stir crazy by the end of it all; I tend to do a lil better but that is only because I just get up and leave!  Think Luke regrets purchasing a second vehicle….
Ummmm, I digress. Where was I going with that? Oh! I know! So our first Winter out here I started making Sourdough Bread! It is the quintessential Bush Craft, is it not? Our Brittany Blue has survived a forest fire, being evacuated, has traveled to the Fraser Valley, traveled to Kamloops, survived the hot and the cold; when I leave the Earthship for any amount of time, I take Brittany Blue with me because she can be quite demanding. I mean one time when I left I allowed Luke to babysit her and I am pleased to say that he DID manage to keep her alive; he took his babysitting duties very seriously!
Mine and Brittany Blue's last trip out to civi the oven was not working at my temporary home with Michael and Hayley so I kinda, sorta didn't make any Sourdough Bread! What!? Which means that when I went to make bread today I mighta had a bit of trouble remembering the recipe. Oooops.  I did my best to pull it all together but this ol' brain of mine doesn't remember stuff quite as well as it used to….
I will write up what I did today and make changes where changes need to be made as I dig into the deep dark recesses of my brain trying to recall the recipe. Or you know, go dig through my treasure trove of recipes…
Sourdough Bread
1 cup Starter
2 1/2 cups Warm Water
1 – 2 teaspoons Instant Yeast *
1 Tablespoon Sugar
1 Tablespoon Salt
5 – 7 cups Flour
Combine starter, warm water and yeast in a large mixing bowl; set aside in a warm, draft free place to allow yeast to bloom.
Meanwhile lightly spray two 9×5 loaf pans with vegetable oil spray and sprinkle with a bit of cornmeal; set aside.
After allowing yeast to bloom for about 10 minutes, measure 2 cups of flour into yeast mixture; sprinkle sugar and salt on top of the flour then stir in.
Continue stirring for about 2 minutes before gradually adding in remaining flour. You may have to use your hands to fully incorporate the last cup of flour.
Turn out onto floured surface and knead for about 7-10 minutes, forming a smooth dough.
Allow dough to rise in a lightly greased bowl; cover with a clean tea towel and let proof for about 90 minutes until dough has doubled in size.
Punch down dough, turn out onto lightly floured surface and gently divide dough in half.
Shape each half of dough into oval loaves and place in prepared loaf pans; cover with tea towel and let rise until doubled in size, about 1 hour.
About 45 minutes after the dough starts proofing, turn oven on to 425F.
Uncover loaves, make a slash in each, using a very sharp knife.
Bake the bread in preheated oven for 25 to 30 minutes until lovely and golden.
Remove from oven and immediately remove from pans to cool completely on a wire rack.