My daughter Krick makes the yummiest Cheesecakes! Raspberries are soon in season around here so I am sure we will see this one showing up at a Sunday Dinner in the very near future.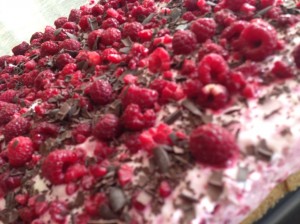 Crust:
1/2 cup Butter
2 cups Graham Wafer Crumbs
1/4 cup Brown Sugar, packed
Filling:
2 – 3 oz (85g) Raspberry Jello
1 cup boiling Water
15 oz frozen Raspberries, partially thawed
2 – 8 oz packages Cream Cheese, softened
3/4 cup Icing Sugar
1 cup Whipped Cream
Crust: Melt butter in saucepan.
Stir in crumbs and sugar.
Pack into an ungreased 9X13  pan. ( Krick and I use a square springform pan)
Bake in 350F degree oven for 10 minutes or you can use it without baking.
Filling: Dissolve Jello in water.
Stir in berries.
Chill until syrupy.
Beat softened cream cheese and icing sugar together until blended.
Fold in whipped cream.
Fold in thickened jello.
Pour over crust and chill at least 4 hours.
Sprinkle with chocolate shavings, if desired.
Serves 15
This recipe come from Jean Pare's Company's Coming _Desserts_ page 33.
The original recipe calls for 2 packages of whipped topping mix. I prefer to use real whipped cream.