Chunky Chicken, tangy mayo, crunchy celery; add some whole grain bread and you have a sandwich you can really sink your teeth into.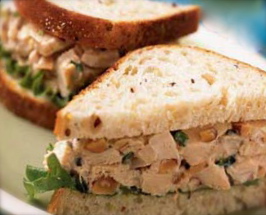 1 1/2 cups chopped cooked Chicken or Turkey
1/2 cup Mayo
1/2 teaspoon Salt
1/2 teaspoon Pepper
1/4 teaspoon Sage
1/4 teaspoon Thyme
1 medium stalk Celery, finely diced
1/2 small onion, finely diced
8 slices Whole Grain Bread
Shredded Lettuce
Tomato Slices
Green Pepper Strips
Cheddar Cheese Slices
In medium mixing bowl combine all ingredients except bread.
Spread Chicken mixture on each of four slices of bread.
Layer on toppings of your choice.
Top with second piece of bread.