Autumn
A – Absolutely Wonderful
U – Under Glorious Blue Skies
T – Temperatures dropping
U –  Unusually Brilliant Orange, Red and Brown Colours Abound
M – Misty Mornings
N – Noshing on Everything Pumpkin and Spice
I have long loved Pumpkin Spice Lattes at Starbucks but am not a fan of the tummy ache that accompanies them. So sorry, I just can't stomach Soy Milk anymore.  I was pleased to have this Pumpkin Spice Latte recipe come through my Facebook feed. I did change it up a lil bit: subbed in Almond Milk for the Milk, Xylitol for the Sugar and my own Spice Mixture for the Pumpkin Spice.  Lucky for me I am often making Pumpkin this or Pumpkin that at this time of the year so I always have a bit of Pumpkin Puree hanging out in the fridge.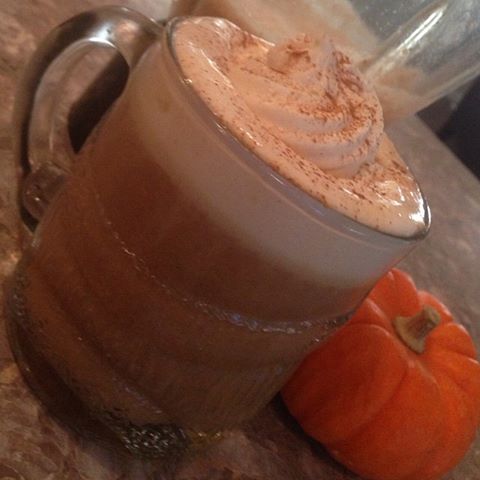 2 cups Almond Milk (milk of your choice, really)
2 Tablespoons Pumpkin Puree (or Torani Pumpkin Spice Syrup <—don't even know what that is)
1 – 2 Tablespoons Xylitol or Sweetener of your Choice
2 Tablespoons Vanilla
1/2 teaspoon Pumpkin Pie Spice, plus more to garnish
1/4 cup Espresso or 1/2 cup Strong Brewed Coffee
Whipped Cream, to garnish
In a saucepan whisk together almond milk, pumpkin and sugar; cook on medium heat , stirring, until steaming.
Remove from heat, stir in vanilla and spice.
Transfer to a blender and process for 15 seconds, until foamy.
-If you don't have a blender you can: use a Stick Blender or
– Whisk the mixture with a wire whisk until foamy
Pour into 2 coffee mugs.
Add espresso on top.
Top with whipped cream, if desired.
Sprinkle with pumpkin pie spice.
Serves: 2
Pumpkin Pie Spice
4 Tablespoons Cinnamon
3 teaspoons Nutmeg
4 teaspoons Ginger
3 teaspoons Allspice
Combine all ingredients together.
Store is small, airtight jar.