Sometimes you find yourself without eggs, and milk, and vanilla, and vinegar, and well, a whole lot of ingredients but you need to pull together a breakfast!
I have found myself in this exact position not once but twice in the past two weeks. Seriously, NOTE TO SELF: BRING VANILLA, VINEGARS, EMERGENCY POWDERED EGGS, POWDERED MILK
In the meantime, I pulled these Vegan Pancakes off and they were actually really good! I would suggest letting the batter sit for about 15 minutes before cooking. I used my electric griddle which made them turn out beautifully! I just can't seem to get the hang of cooking pancakes in a cast iron frying pan…nor a cast iron griddle! All good, the sun was shining when I wanted to make these for breakfast AND the wind was ripping through here so the wind turbine was generating extra power too!
Without further ado….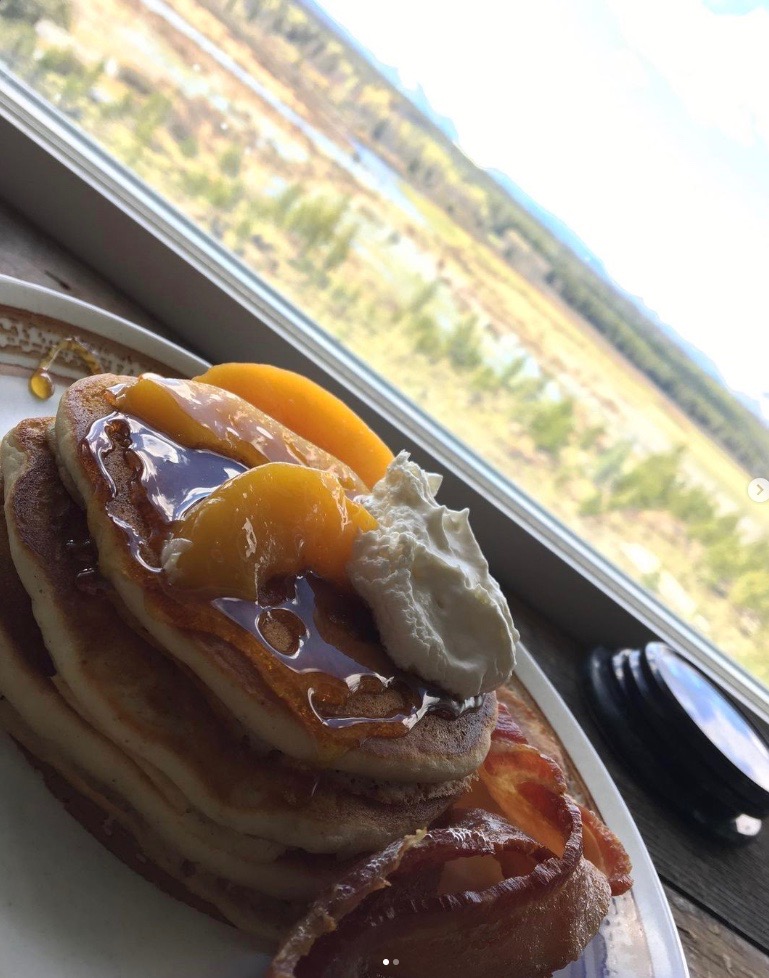 Fluffy Vegan Pancakes
2 cups Flour
4 Tbsp Coconut Sugar
2 Tbsp Baking Powder
1 tsp Salt
2 cups Almond Milk
1 Tbsp Apple Cider Vinegar
2 tsp Vanilla
Maple Syrup, to serve
Whipped Cream, to serve
In medium mixing bowl combine flour, sugar, baking powder, and salt.
In small mixing bowl, combine almond milk, apple cider vinegar and vanilla, stirring well.
Pour liquid ingredients into dry ingredients and whisk just until combined. Do not over mix to avoid rubbery pancakes.
Let batter rest for about 15 minutes.
Preheat your electric griddle or non-stick pan, or cast iron pan on stovetop; pour about 1/3 cup of batter for each pancake –  my griddle accommodates cooking six at a time.
When the top begins to bubble, flip the pancake and cook second side until lovely and golden.
Serve warm with Maple Syrup, Fresh Fruit and Whipped Cream.
Store leftovers in an airtight container in the refrigerator for up to five days: reheat in the toaster or enjoy cold with a nut butter and jam, jelly or honey.
No eggs? No worries! Delicious egg free, dairy free pancakes.