Earlier this year I made Salmon Burgers using raw salmon which went over very well with the meat eaters in our house but my Aunty Ginny recently gave me some canned salmon so thought I would try a Salmon Burger using that…As the Cook, I preferred using the canned salmon over the raw! Those that consumed the Burgers liked both versions, helpful Souls that they are when it comes to critiquing my fare!
Rather than googling a recipe I resorted to my tried and true source and found, "Savoury Fish Patties" Betty Crocker's New Cookbook,  Everything you Need to Know to Cook, 8th Edition,  A Simon and Schuster Macmillan Company, New York, NY, Macmillan, 1996, 188. Print
I made a few slight changes: I always have bread crumbs in the pantry/freezer so used the measured amount over the two torn slices of bread, substituted dill for the marjoram and forgot the  dry mustard altogether.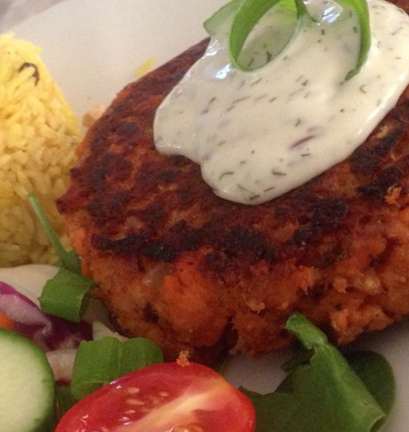 3 cups canned Salmon
1/2 cup chopped Onion
1 1/3 cup Bread Crumbs
2 large Eggs, beaten
2 Tablespoons Lemon Juice
1 teaspoon dried Dill
1/2 teaspoon Salt
Pepper, to taste
Olive Oil, for frying
Mix all ingredients together in a large mixing bowl.
Shape into 6 large patties.
Heat oil in a 10″ Skillet over medium heat.
Cook patties in oil for about 5 minutes, carefully turn over and continue cooking for another 5 minutes.
Remove to serving platter.
Serve with  Boathouse Lemon Dill Dipping Sauce.
Serves 6