This recipe came through me FB feed the other day; I liked it because it sounded like it would be packed with flavour and incredibly easy to make.
I am going to go back to cooking more Vegetarian meals because, quite frankly, I am getting tired of eating you know, rice, potatoes and a vegetable and/or salad all the time. I have to eat, too! Now what I have found is that it is often quite easy to turn a Meatasaurus dish into a Vegetarian one. I have made this recipe both ways…I can't speak for how the real Chicken batch tasted but mine was YUM! Both the Vegetarian and Meatasuruses concluded that the recipe might be improved with the addition of ginger, reduce the soy sauce by half and more garlic.
At any rate, I will list the recipe here as I will make it next time.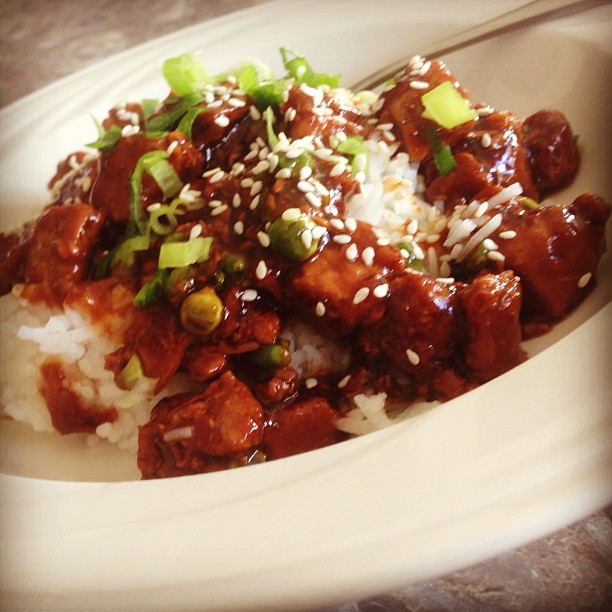 1 1/2 pounds boneless, skinless Chicken Breasts, cut into thick strips
OR   2 pkgs (170g) Yves Chicken Tenders or another brand of Meatless Chicken Strips
1/2 cup Honey*
2 Tablespoons Soy Sauce
1 medium Onion, sliced
4 cloves Garlic, chopped
1 1/2 teaspoons Ginger, grated
2 Tablespoons Ketchup
1 Tablespoon Olive Oil
2 teaspoons Cornstarch
3 Tablespoons Water
Sesame Seeds, to taste
Green Onion, garnish
Lightly spray Crock Pot with vegetable oil spray for easier clean up.
Place Chicken or Soy Chicken into Crock Pot.
Slice onion, chop garlic and add to chicken (soy chicken).
In a large measuring cup combine honey, soy sauce, ketchup and oil; pour over chicken (soy chicken), onions and garlic.
Cover and cook on LOW for 3 – 4 hours or on HIGH for 1 1/2 – 2 hours.
Remove chicken (soy chicken) from the Crock Pot to a medium size heat proof dish.
Pour liquid into a small saucepan over medium high heat.
Make a paste with the cornstarch and water; pour into hot liquid.
Bring to a boil, stirring constantly and cook for a minute.
Remove from heat, pour over chicken and toss to coat all the chicken well.
Stir in sesame seeds.
Serve over warm rice and garnish with chopped green onion.
Serves 4 – 6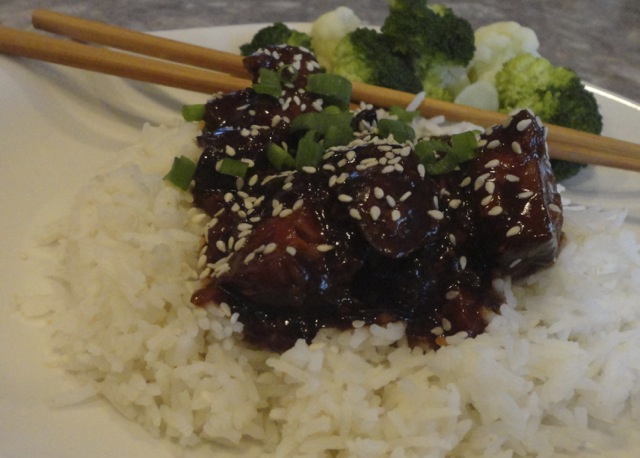 * When purchasing Honey, avoid products that include Blends….they could come from ANYWHERE!  In the Summer we like to drive to Keremeos…you should hear how my husband says that name! …to buy pure honey straight from the farm….nevermind that we live a stone throw from some of the best Honey in the Valley 😉