I can't remember how many years ago I started making these Raspberry Pinwheels? It has been a while. The page has long since fallen out of the Robin Hood Christmas Baking booklet I got a gazillion years ago along with one of my Christmas Canadian Living magazines.
I don't know why I make these…I recall many a baking days where I would be cursing under my breath because I couldn't get the dough to roll out. I can happily say I got it sorted out and can whip these up with no problems what so ever now…really, listen to the directions and roll the dough out between to sheets of parchment paper…I give the bottom piece a super light dusting of flour before I begin. Another thing to remember, this is NOT the time to flex your muscles…use even, light rolling…if you use too much pressure, yea, you will be cursing like a sailor! Trust me on this one.
My family does not like nuts in cookies so I have only made these with the Walnuts once but man, were they good! Oh, but they DO like nuts in Date Nut Pinwheels…go figure? If your family will allow it, definitely add the chopped walnuts.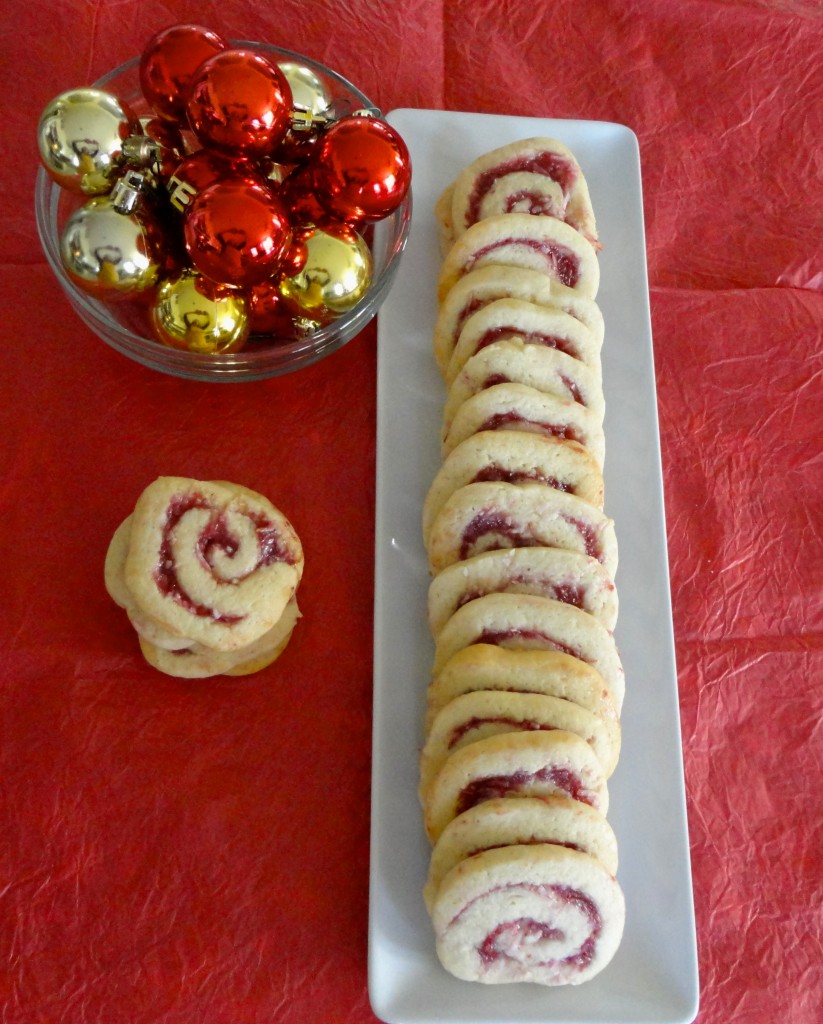 2 cups Flour
1 teaspoon Baking Powder
1/4 teaspoon Salt
1/2 cup Butter, softened
1 cup Sugar
1 Egg
1 teaspoon Vanilla
1/2 cup Raspberry Jam
1/2 cup Fine Coconut
1/4 cup Walnuts, finely chopped (optional)
Preheat oven to 375F.
Line 4 baking trays with parchment paper.
Combine flour, baking powder and salt in a small bowl; set aside.
Cream butter, sugar, egg and vanilla thoroughly.
Mix dry ingredients into creamed mixture.
Roll dough between 2 sheets of parchment paper to a 12″x9″ rectangle.
In a small bowl, combine raspberry jam, coconut and walnuts, if using; spread evenly over dough to within 1/2″ of edges.
Roll up tightly, jelly-roll fashion, starting from long side.
Gently press edge to seal.
Wrap in parchment paper and chill overnight. (Or for at least 4 hours)
Cut into 1/4″ thick slices and places on prepared baking sheets.
Bake at 375F for 8 – 10 minutes, or until golden.
Makes about 40 cookies