I have been making Granola for years. The tried and true recipe I have been using is heavy on the fat and sugar which is probably what makes it taste so darn good! No word of a lie, I could sit down with a Modular Mate Round #2 full of Brown Sugar and eat the entire contents, no worries! I'd pay for it afterwards but man,  it sure tastes good going down! ( I may be drooling on my keyboard as I type this and also thinking of making Caramel Corn…)
We moved off the grid a year ago where I have continued to make my fave granola recipe but yesterday, for some reason, I decided to try something different. Oh, right. We are in the shoulder season out here in the bush, with limited sunshine these days so no rays to power our batts…that's what prompted me to open an actual cookbook to source a Granola Recipe. When the Batts are running low we conserve energy in every way possible which means no turning on my computer. I usually just open up my old fave Fruit and Nut Granola .
I can cook to my hearts content because that is propane fuelled…well, let's not go crazy there…still have to have the propane in the 100lb tanks to operate the stove and heat the water.
Yes, I could have looked in my treasure trove of hand written recipes but I have this Skinnytaste Cookbook that I paid good money for so I thought I might as well flip through the pages.
On Page 26 you will find the recipe for her Good For You Granola. I'm calling it As You Like it Granola because you can really make all kinds of substitutions…which I did…and it will still turn out wonderfully!  The thing that drew me to making this recipe is the drastic cut in fat and sugar! I didn't think it could possibly taste as good as my old recipe but I was wrong. It is AMAZING!
I searched for her recipe online but couldn't find it so I will write it up here for you but I strongly suggest you head over to SkinnyTaste to check out all of her fantastic recipes!  To be sure, I double the recipe and I am very glad that I did!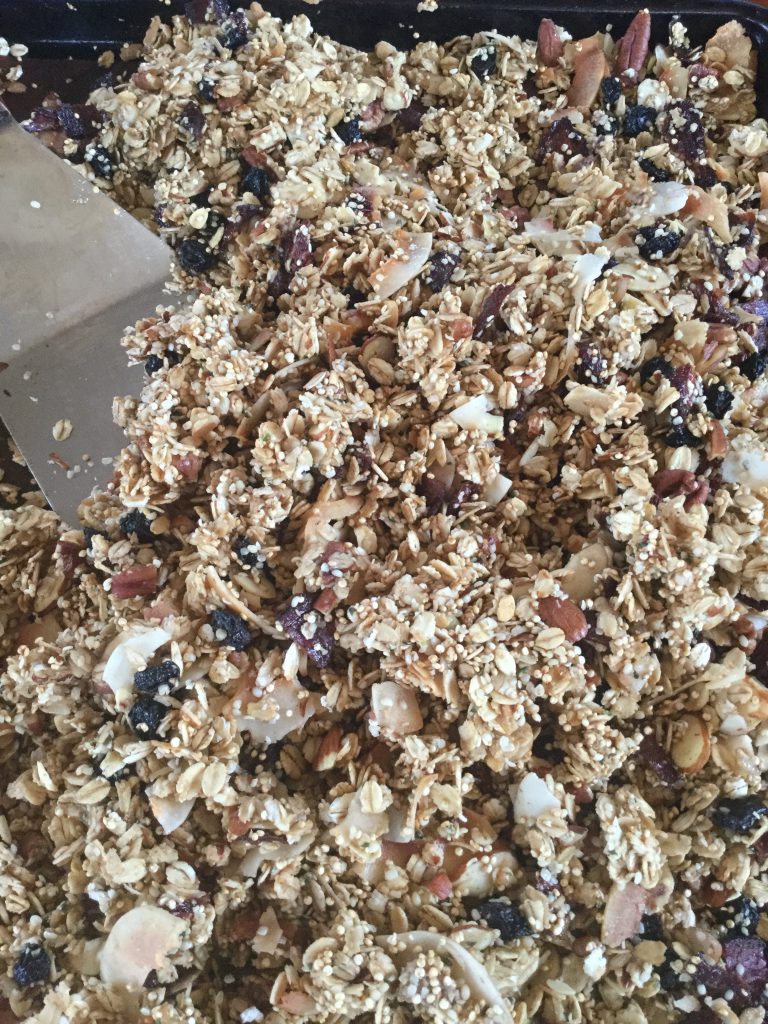 Because I doubled the recipe and found it to be the perfect amount for the two of us (regular Granola consumers) I am going to list the doubled amounts. And I am going to list my subs…coconut flakes, hemp hearts, pecans and as for the fruit? Your call!
1/2 cup Quinoa
3 cups Old Fashion Rolled Oats
1/2 cup Coconut Flakes
1/2 cup Hemp Hearts
1/2 cup Slivered Almonds
1/2 cup chopped Pecans
1/2 cup dried Blueberries
1/2 cup dried Cherries
1/2 cup dried Peaches, cut/torn into bite sized pieces
1/2 cup dried Strawberries
1/2 cup Honey
2 Tablespoons Coconut Oil, melted
2 teaspoons Vanilla
2 teaspoons Cinnamon
1/2 teaspoon Nutmeg
Preheat oven to 325F.
Line a baking sheet with parchment paper – preferable to silpat because you can chuck it away.
Rinse quinoa thoroughly under cold water in a fine mesh sieve; drain well and pat dry with paper towels.
Spread quinoa, oats, and coconut out on the baking sheet.
Toast in the oven, stirring once, until golden, about 10 minutes.
Meanwhile gather together the fruit and nut combo that you prefer, toss together with the cinnamon, nutmeg and salt; set aside.
In another small bowl combine the honey, melted coconut oil, and vanilla; set aside.
Remove quinoa/oat mixture from the oven.
Pour the fruit/nut and spice mixture over top and gently mix in.
Drizzle wet ingredients over all and gently toss with a large metal spatula, spreading the mixture evenly over  the entire baking sheet.
Return to oven and bake until golden brown, about 10 – 12 minutes, stirring once at the halfway mark.
Remove from oven , give it a gentle stir, and cool completely on the baking sheet before transferring to a container with an airtight lid.
Makes about 8 cups of Granola
Store in airtight container for up to a month….if it lasts that long!