Threw together some Chicken and Cheddar wraps for dinner tonight. After all that stuff and bother in the news about "Pink Slime" I was loathe to purchase ground beef to feed to the grandsons. As an alternative I picked up some ground chicken and made up a taco chicken filling for wraps along with some cheddar cheese, lettuce, tomatoes and red onion. Really though? Wraps was just an excuse to make Tater Tots! Yea, sure, they are not the healthiest choice going but meh, once in a blue moon won't kill ya, right?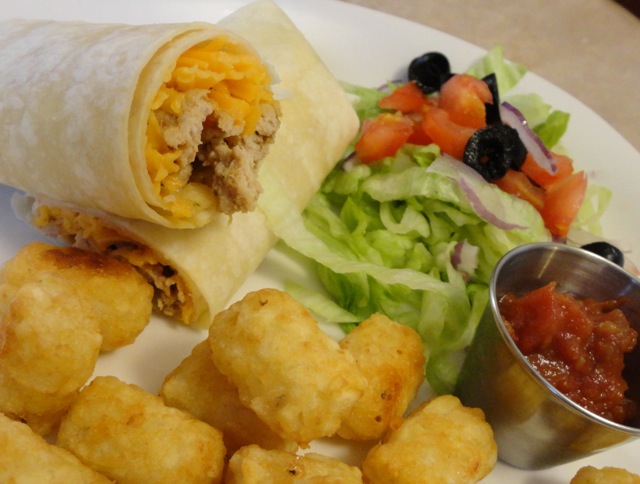 500g Ground Chicken
1 Tablespoon Olive Oil
1 Tablespoon Adobo Seasoning
1/4 cup Salsa
1/2 cup Water
Shredded Lettuce
Dice Tomatoes
Grated Cheddar Cheese
Salsa
Black Olives
Red Onion, thinly sliced
In a large skillet heat oil over med-high heat, add ground chicken and cook through, stirring often.
Add Adobo seasoning, salsa and water; bring to a boil, reduce heat and simmer for 15 minutes.
Divide chicken filling between 8 flour tortillas, top with desired toppings, roll up, cut in half and serve.