I have not yet converted to weights….
Important to note, when measuring this flour, scoop GF flour into measuring cup and level off with a small metal spatula or other straight edged utensil. DO NOT SCOOP THE GF FLOUR INTO THE CUP.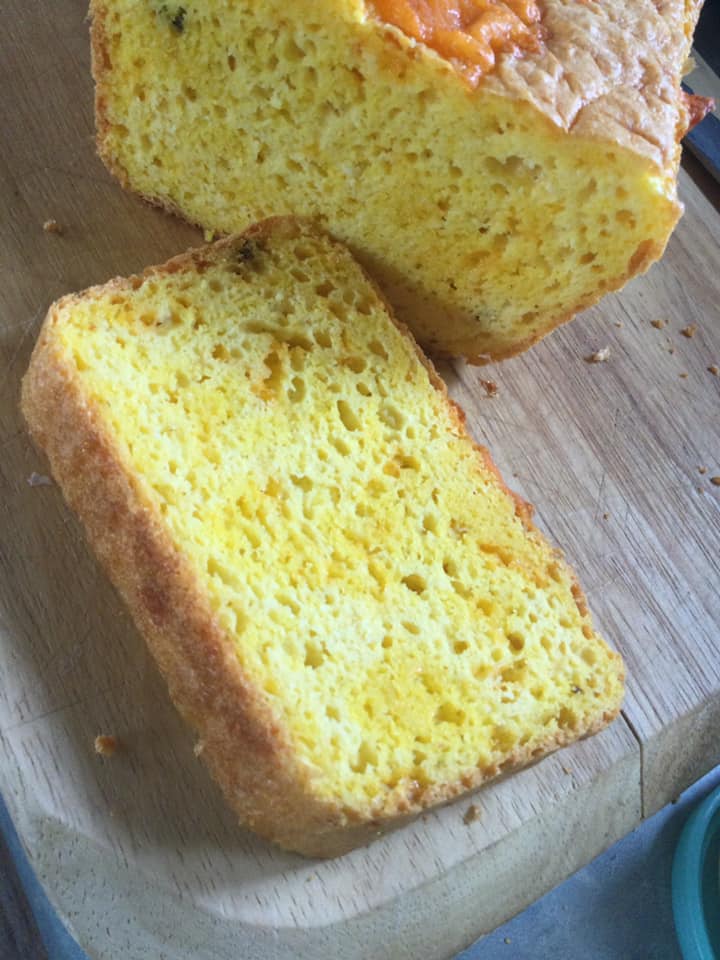 This bread is wonderful toasted!
3 cups FL Flour Mix*
1/4 cup Monkfruit Sweetener**
3 1/2 teaspoons Xanthan Gum
2/3 cup Dry Milk Powder
1 1/2 teaspoons Salt
2 teaspoons Monkfruit Sweetener**
1/2 cup Warm Water (110F)
1 1/2 Tablespoons Yeast
1/4 cup Butter
1 1/4 cups Water
1 teaspoon Vinegar
3 Eggs
Combine flour, sweetener, xanthan gum, milk powder, and salt in bowl of heavy duty mixer using paddle attachment.
Dissolved the 2 teaspoons of sweetener in the 1/2 cup of lukewarm water and mix in the yeast. Set aside while you combine the butter and 1.25 cups of water in small saucepan and heat until butter melts, just; it's okay if a few small clumps of butter remain.
Crack eggs into a small bowl and whisk; set aside.
Turn mixer on to lowest setting to blend dry ingredients and slowly add butter/water mixture along with the vinegar. Blend, then add eggs. This mixture should feel slightly warm.
Pour the yeast mixture into the ingredients in the bowl and beat at highest speed for 2 minutes.
Place mixing covered ( I use a @Norwex cover)  mixing bowl in a warm place;  cover with a clean tea towel, and let the dough rise for about 1 – 1 1/2 hours or until doubled.
(In civi I put in the oven with the light on; out in the bush I put it into my propane oven where the pilot light keeps it toasty warm)
Return bowl with dough to mixer and beat on high for 3 minutes.
Spoon the dough into a 9″X5″ loaf pan lined with parchment paper; lightly spray lined pan with veg oil spray.
~ I always make  two additional small "loaves" in my mini cheesecake pans; lightly sprayed with veg oil.
Let rise until the dough is slightly above the top of the loaf pan. Bake in preheated 400F oven for 10 minutes. Lightly place sheet of foil over bread(s) and bake small loaves an additional 15 minutes – remove from oven. Rotate the large loaf pan and recover with foil and bake anther 25 minutes.
Remove from oven and let cool, in pan(s) for at least 15 minutes before turning out onto wire rack to cool completely.
Store in an airtight container in a cool place but not the fridge – fridge dries it out! I store mine in the Cold Room.
Gluten Free BreadThis GF Bread freezes well.
For added convenience, slice bread once cooled, and freeze.
Notes
*GF Flour Mix
11 oz White or Brown Rice Flour
7   oz Potato Starch Flour
3 oz Tapioca Starch
Whisk together well; store in an airtight container in a cool place
**Monkfruit Sweetener
I use Monkfruit Sweetener because you don't get that nasty after taste often associated with artificial sweeteners.
I sub in Coconut Palm Sugar if I am out of Monkfruit Sweetener
Original recipe calls for granulated sugar
Original Authour's note on pans:
"Spoon the dough into 3 small (2 1/2″x5") greased loaf pans or 1 large one. Use muffin tins and bake any remainder as small rolls. Or make all rolls (approx 18)