I make pretty good Dal, a good Red Curry that I sometimes do Vegetarian, sometimes with Chicken or Shrimp, killer Naan, decent Gobi Aluu but was lacking in the Curried Veg department; even my husband's Granny made better curried veg than me…well, no more! I found this super Quick Curried Vegetables recipe at Vegetarian Times.  Of course I tweaked it according to what I had on hand and I am sure I will tweak it every time I make it…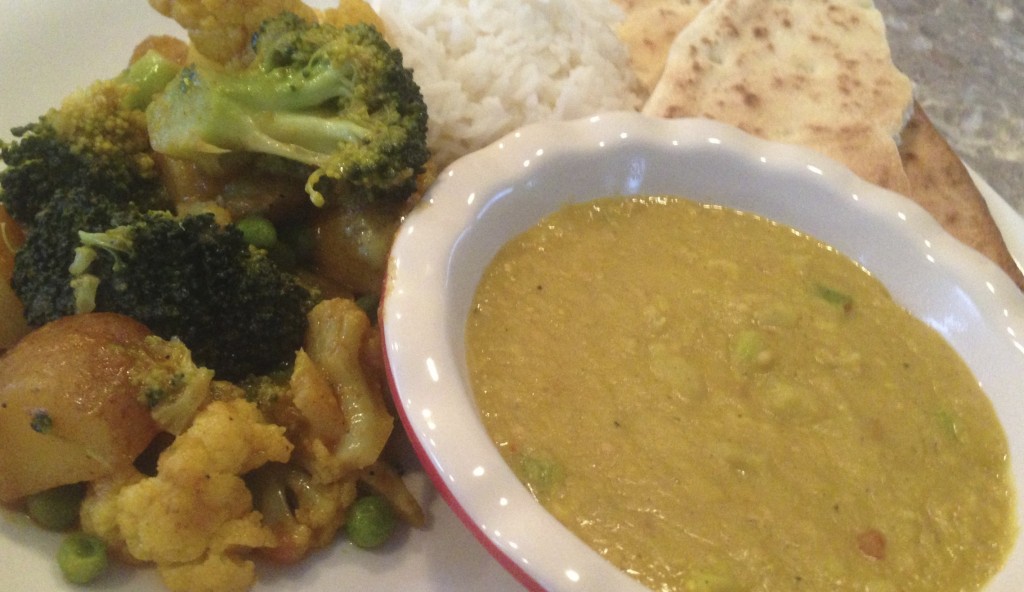 2 teaspoons Olive Oil
1 large Onion, chopped
1 (400ml) can Coconut Milk
1 cup Water
1 McCormick Vegetable Stock Cube, crushed
3 Tablespoons Tomato Paste
3 Tablespoons Curry Powder
1 lb Red Skinned Potatoes, scrubbed and cut into 1″ cubes <- I used mini white/red potatoes I had on hand
1 small Cauliflower, cut into small flowerets
2 heads Broccoli, cut into small flowerets
1/2 cup frozen Peas
1/4 cup fresh Cilantro, chopped
1 – 2 Tablespoons Lime Juice
Heat oil in large saucepan over medium-high heat.
Add onion and cook for 5 minutes, stirring frequently.
Add coconut milk, water and vegetable stock cube; whisk in tomato paste and curry powder.
Bring to a boil; add potatoes, reduce heat to medium, cover and cook for 15 minutes until potatoes are stiff firm but almost done.
Stir in cauliflower, broccoli; cover and cook another 5 minutes, or until vegetables are tender.
Remove from heat; stir in frozen peas, cilantro and lime juice.
Season to taste with salt and freshly ground pepper.
Serve with Basmati Brown Rice.
Serves: 6 – 8