St. Patrick's Day has come and gone for another year. This year instead of the obligatory Shamrock Sugar Cookies with Green Icing I made Guinness Fried Chicken! And Bailey's Irish Creme Cupcakes with Bailey's Irish Creme Buttercream Frosting; I can't vouch for the chicken but the cupcakes were splendid!
I used to see a lot of recipes containing Guinness but never tried any of them before now.  Too bad because when we lived in Australia my dear husband often bought Guinness and would have regularly had some on hand; for this recipe I had to go to the Bottle Shop specifically to pick up  a single can of Guinness. All good, whilst there I spotted the display for Bailey's Irish Creme which inspired me to make the cupcakes. Anyway, I googled Guinness + Chicken and chose this offering from globalfoodfusion . Specifically speaking, I came up with Ursula's interesting tale; how to ogle handsome firemen and make great tasting chicken! I made a few changes to her recipe simply because I used what I had on hand but feel free to head over to her recipe for Guinness Fried Chicken …who knows, maybe using her recipe will garner you an audience with handsome firemen too.
I grilled husband and son about the chicken; they were happy with the crunch factor, flavour – good. That's as good as it gets around here. The lil grandson loved it, too; getting a finicky toddler to eat much of anything is always a victory!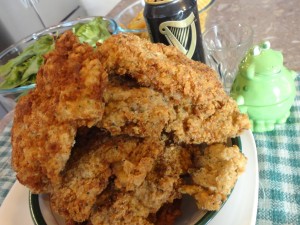 1 kg Chicken – I used Boneless, Skinless Thighs, pounded to 1/4″ thickness
Canola Oil, for frying, about 1/2 litre
Batter
1  3/4 cups Flour
2 Tablespoons Cornmeal
2 teaspoons Parsley
1/2 teaspoon Garlic Powder
1 1/2 teaspoon Salt
1/2 teaspoon Paprika
1/2 teaspoon Dry Mustard Powder
1/2 teaspoon Ground Coriander
1 teaspoon Dried Basil
1/2 teaspoon Freshly Ground Black Pepper
2 Eggs, beaten
8 ounces Guinness
Breadcrumb Mixture
1 cup Flour
4 cups Bread Crumbs
1 teaspoon Italian Seasoning
1 teaspoon Dried Basil
1 teaspoon Salt
1 teaspoon Parsley
1/2 teaspoon Freshly Ground Black Pepper
Pound chicken thighs to 1/4″ thickness.
Pour Oil into a large (30cm) deep skillet; do not turn on yet.
Place a wire rack on a baking tray covered with L-Foil, for easy clean up; set aside.
In a large, shallow mixing bowl whisk together flour, herbs and spices.
Lightly beat eggs; add eggs and Guinness to flour mixture and stir with whisk until no lumps remain.
In large, shallow mixing bowl combine flour, breadcrumbs, Italian seasoning, basil, salt & pepper and parsley.
Turn oil on to Medium-High to heat while breading the chicken.Lightly coat a piece of chicken in the breadcrumb mixture.
Dip into batter, allow some of the batter to drip off.
Return chicken to breadcrumb mixture and coat again.
Place on a plate.
Repeat with each piece of chicken.
Place two or three pieces of prepared chicken into the hot oil.
Cook for 3 – 5 minutes, until golden and crispy – do not repeatedly turn over – just lift the edge of a piece of chicken to have a quick peak
Using long handled tongs, turn over and continue cooking for another 3 – 5 minutes, until golden brown and crispy.
Lift chicken out of oil and let drip for a few seconds.
Place cooked chicken on  prepared wire rack to drain off excess oil.
Serve with your favourite dipping sauce.
Serves 6 – 8