This recipe came through my Facebook feed from Budget Bytes the other day and I thought I might have all the ingredients in my pantry; only had to make a few substitutions and have another on deck for the next time I make this.
Now maybe my pilaf fell a little flat because I used Basmati rice instead of Jasmine but I am more likely to have Basmati rice in the pantry over Jasmine so I will just make that work by adding a McCormick's Vegetable Stock cube the next time I make it. Also, try as I might, I simply cannot grown a kitchen herb garden! Every time I buy fresh cilantro it goes off before I have a chance to use it so I just left it out. I threw in a bit of fresh chopped parsley (Because who can't grow that stuff!?) which added lovely colour but not a whole lot of flavour.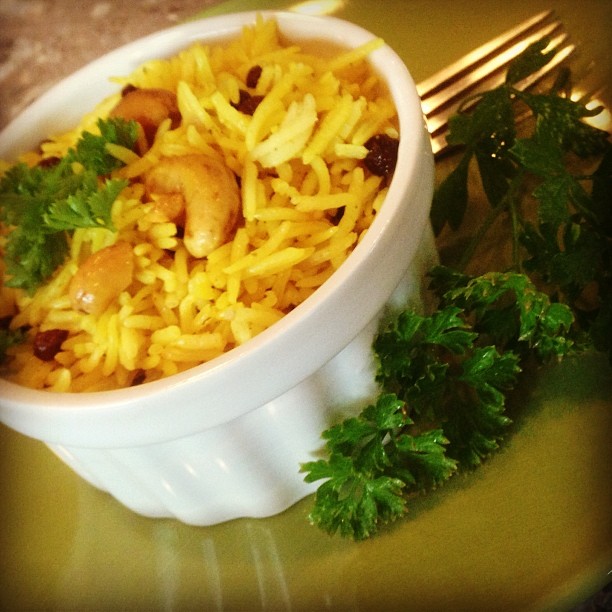 2 Tablespoons Olive Oil
3 cloves Garlic, minced
1/2 teaspoon Turmeric
1/2 teaspoon Cumin
1/4 teaspoon ground Cinnamon
2 cups Basmati Rice
1/2 chopped Cashews
1/4 cup dried Currants
3 cups Water
1 McCormick's Vegetable Stock cube
1/2 teaspoon Salt
1 Bay Leaf
A few sprigs Cilantro, chopped
In a medium saucepan heat oil over medium heat.
Cook onion for 2 minutes then stir in minced garlic, turmeric, cumin and cinnamon and continue cooking for another 2 minutes, stirring often.
Add the rice, turn the heat up a notch; cook, stirring constantly for 2 minutes.
Add the cashews, currants, water, vegetable stock cube, salt and bay leaf; stir to combine.
Turn the heat all the way up and bring the pot to a boil; reduce the heat as soon as it comes to a full boil, put the lid on and turn the heat down to low and simmer for 20 minutes.
Remove from heat and allow to sit for 15 minutes, with lid on.
Remove lid, fluff the rice with a fork.
Gently stir in chopped cilantro.
Serve hot.
Serves 6