I have had it in my mind to make an Applesauce Cake for absolutely ages. On my last trip to the shops I even bought a great big bag of apples; truth be told, I have bought a big bag of apples a few times before but the Applesauce Cake just never seemed to materialize, go figure.
It just so happens I had a few plans go awry on a Saturday and when you have to shift to Plan B, but wait, there was no Plan B; well, that is a good time to head to the kitchen and do some Baking! Coincidentally I had also just made a fresh batch of applesauce so I simply had to dig out the Applesauce Cake recipe.
It used to be that I would flip through my Betty Crocker cookbook but in this day and age, I enter what I want to make in the google search field on MY iPad* and sift through the multitude of recipes on offer. Good Ol' BC has an Applesauce Cake recipe for a 9×13 cake which I guess I could have used but I wanted a tried-and-true recipe for a bundt pan because I bought a bundt pan in June and it was still sitting in the cupboard, unused!
I made only one substitution in this recipe and one addition: I used chopped dates instead of raisins and I added a layer of Cream Cheese Frosting to finish it off. You see, the picture in the old BC cookbook has a lovely 9×13 Applesauce cake all decked out in Cream Cheese Frosting and sprinkled with chopped walnuts so I had this vision in my head of my Applesauce Cake being frosted rather than merely dusted with powdered sugar.
Many thanks to Cookie Madness for breaking away from Cookies and making an Applesauce Spice Bunt Cake.
*My husband keeps absconding off to the bedroom with my iPad at the most inopportune times! And the nerve, sometimes he even closes down the pages I am using! I NEVER shut down his Geek pages!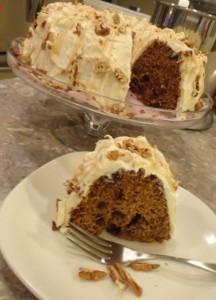 3 cups Flour
2 teaspoons Baking Soda
1/2 teaspoon Salt
1 teaspoon Cinnamon
1/2 teaspoon Allspice
1 cup Butter, softened
1 cup Brown Sugar, lightly packed
1 cup Sugar
1 large Egg
2 cups unsweetened Applesauce
1 cup coarsely chopped Pecans
1 cup chopped Dates or Raisins
Cream Cheese Frosting
1/2 cup Butter, softened
4 ounces Cream Cheese, softened
3 cups Icing sugar
1 teaspoon Vanilla
Milk, to right consistency, about 1 1/2 teaspoons
Preheat oven to 350F.
Spray a 10″ Bundt pan with vegetable oil spray, add 1 tablespoon of flour, tilting and lightly tapping pan to coat pan lightly with flour; turn out excess flour.
In a medium mixing bowl combine flour, baking soda, salt, cinnamon and allspice; set aside.
In mixing bowl beat butter until smooth then add sugar and continue beating for about a minute.
Add brown sugar and resume beating for another 2 – 3 minutes until.
Add egg and vanilla; beat until light and fluffy.
Stir in applesauce on low setting.
Turn mixer off, raise paddle and add the flour mixture; lower paddle and stir at lowest setting until well blended and no lumps remain.
Stir in chopped pecans and dates.
Turn batter out into prepared Bundt pan and bake in 350F oven for 60 – 70 minutes, until golden and pick inserted in centre comes out clean.
Remove from oven and cool, in pan, on wire rack for 10 minutes.
Turn out of pan onto wire rack and cool completely.
While cake is cooling prepare Cream Cheese Frosting:
Cream butter until soft and no lumps remain.
On low speed, stir in 1 cup of icing sugar until incorporated.
Add vanilla and continue stirring on low speed.
Add another cup of icing sugar, again stirring until incorporated.
Add final cup of icing sugar and a bit of milk, if needed.
Beat on medium-high speed for 2 -3 minutes until light and fluffy.
When cake is completely cooled frost with Cream Cheese Frosting, sprinkled with chopped Pecans and drizzle with a bit of Maple Glaze (icing sugar mixed with a bit of maple flavouring and enough milk to drizzling consistency)
Yield: 12