A recipe I got years ago from dear friend, Lisa Kemle. It was well received and became a family favourite! It is supposed to have savoy cabbage in it; sometimes mine does, sometimes it doesn't! I just use whatever I have on hand when making it.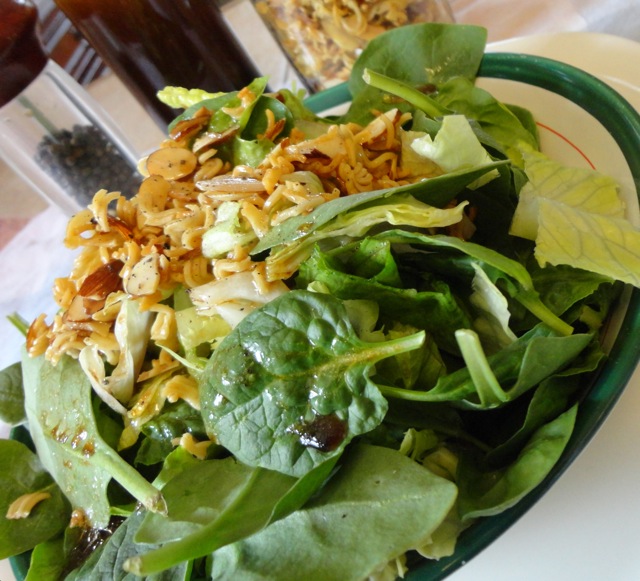 2 pkgs Mr. Noodles, cracked
1/4 cup Butter, melted
1/2 cup Slivered Almonds
1/4 cup Sunflower Seeds
1 head Savoy Cabbage, shredded
1 head Romaine Lettuce, thinly sliced
4 Green Onions, chopped
3/4 cup Olive Oil
1/4 cup Cider Vinegar
2 Tablespoons Red Wine Vinegar
2 Tablespoons Soy Sauce
3 Tablespoons Xylitol or 3/4 cup Granulated Sugar
Fresh Ground Black Pepper
Over medium heat, in a large shallow pan, melt butter.
Reduce heat, stir in cracked noodles, slivered almonds and sunflower seeds.
Cook over very low heat, stirring often for about 30 minutes, until golden brown.
Meanwhile measure the olive oil, cider vinegar, red wine vinegar, soy sauce, sweetener and pepper into a Tupperware Qucikshake or jar with a tight fitting lid.
Shake well to combine; set aside.
In a very large bowl combine the shredded savoy cabbage, romaine lettuce and green onions.
When ready to serve, pour cooled noodle mixture and dressing over the salad greens, toss well.