I read on my FB page today that it was Black Forest Cake day! With my husband on the Atkins Diet I thought I might be able to muck around with a basic MIM (Muffin in a Minute) recipe to create a low carb Black Forest "Cake".  It was a hit! Black Forest Cake and no guilt! Who knew?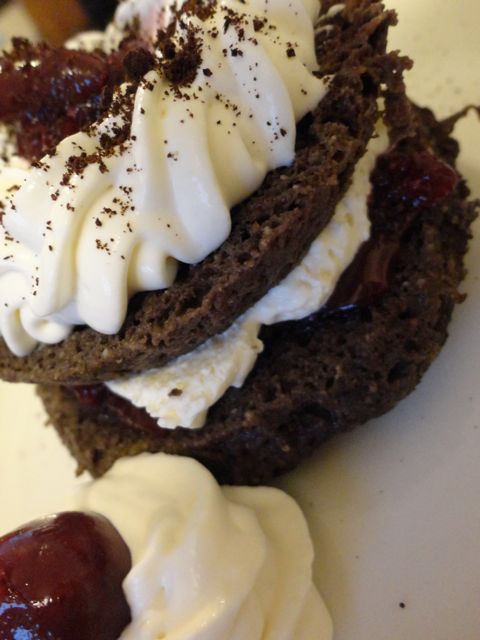 I used a whole can of Unsweetened Pitted Cherries because I tripled the MIM recipe to make three individual Black Forest "Cakes" for the family. If I were to make a single one, I would just cook the cherries up and store it in the fridge to have decadent Black Forest Muffins for Breakfast!
The recipe listed below is for a single MIM but the Cherry Filling is for 4 serves.
1 teaspoon Butter, melted (0.15 oz)
1 Egg, lightly beaten
1/4 cup Almond Meal
1/2 teaspoon Baking Powder
1 teaspoon Splenda
1 teaspoon Carob Powder
Splash of Juice from canned Cherries
Splash of Rum Flavouring
3 Cherries, chopped
1 (398gm) can Unsweetened Pitted Cherries
2 teaspoons Splenda
Splash of Rum Flavouring
Fresh Whipped Cream
Carob Chips, ground
Start by making a Carob MIM.
Lightly spray a 4″ ramekin with vegetable oil spray; set aside.
In pyrex measuring cup melt the butter; stir in egg, splash of cherry juice and rum flavouring.
Add dry ingredients and stir until no lumps remain.
Stir in chopped cherries.
Pour batter into prepared ramekin.
Microwave on HIGH for 1 -2 minutes depending on your microwave oven (I had to go 1 min 30sec )
Run a small metal spatula around the rim to loosen. Let sit in the ramekin for 5 minutes before turning out to cool completely.
While the "cake" is cooling prepare the Cherry Filling.
Drain the liquid from the can of cherries into a small saucepan.
Add 2 teaspoons of Splenda and a splash of rum flavouring; bring to a boil and continue boiling until the mixture has reduced to slightly syrupy texture.
Add the cherries, mash with a fork or potato masher and continue cooking until it has reduced to pie filling consistency; set aside to cool.
To build the Black Forest "Cakes"
Split a cooled cake, top with a layer of cherry filling then a dollop of whipped cream.
Put the top layer on, pipe a border around the top edge, fill the centre with cherry filling and dust with ground carob chips.