My sister made these once, well, she probably makes them from time to time. I suppose I should say that she made them one time when I was visiting her and I loved them! I forgot to get her recipe which is a shame because I think I liked her version better. Or maybe, just maybe I should actually follow a recipe as stated and use measuring spoons?
I googled Cajun Sweet Potatoes (at least I remembered what they were called!) and found this recipe. I was also making Perogy Casserole and was able to get two casserole dishes on my single oven rack!  I thought the Cajun Sweet Potatoes were a nice side for the Perogy Casserole.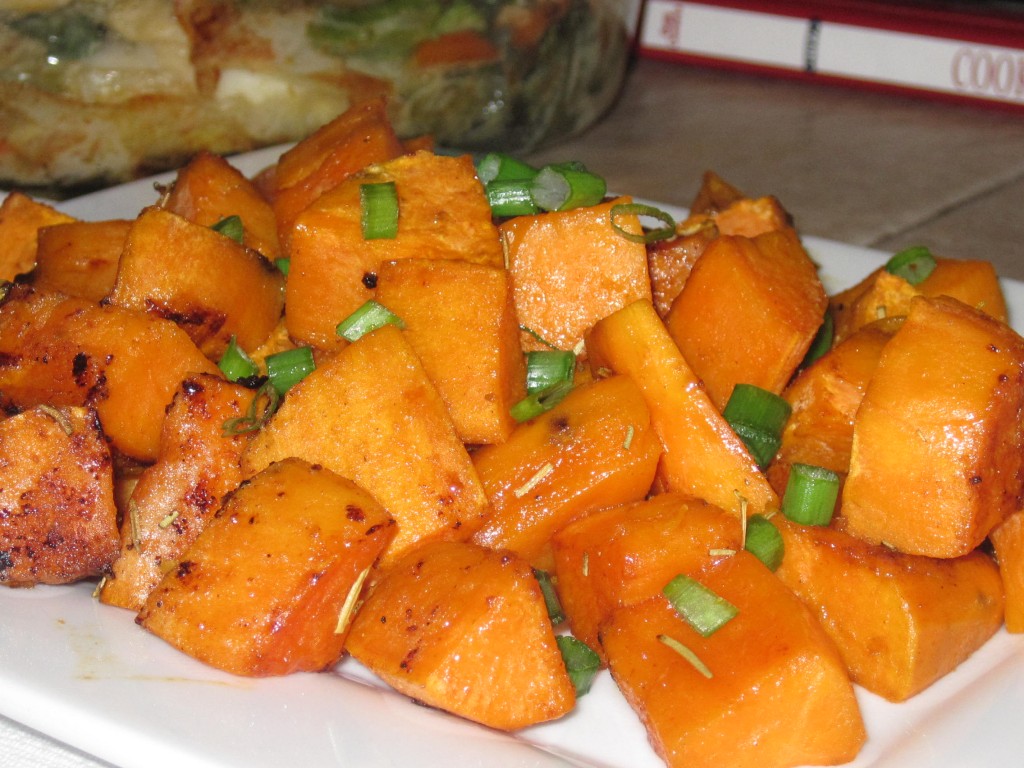 1 1/2 teaspoon Paprika
1  teaspoon Brown Sugar
1/4 teaspoon Black Pepper
1/4 teaspoon Onion Powder
1/4 teaspoon Dried Thyme
1/4 teaspoon Dried Rosemary
1/4 teaspoon Garlic Powder
1/8 teaspoon Cayenne
2 large Sweet Potatoes
1 1/2 teaspoon Olive Oil
Preheat oven to 375F.
Lightly spray a 9×13 casserole dish with vegetable oil spray.
Peel sweet potatoes and cut into cubes; place in casserole dish.
Drizzle with olive oil.
Sprinkle herbs and spices over sweet potato cubes: toss to coat all cubes.
Bake in preheated oven for about 30 minutes.
As mentioned above, I did not measure any of the herbs and spices; I just sprinkled away, straight out of the Tupperware containers. I will say I added heaps more cayenne than listed. I would also say that I used quite a bit more onion and garlic powder.
For the original Recipe and Method used:
Cajun Sweet Potatoes @ AllRecipes.com
The Cajun Sweet Potatoes we made at my sisters over the past summer.